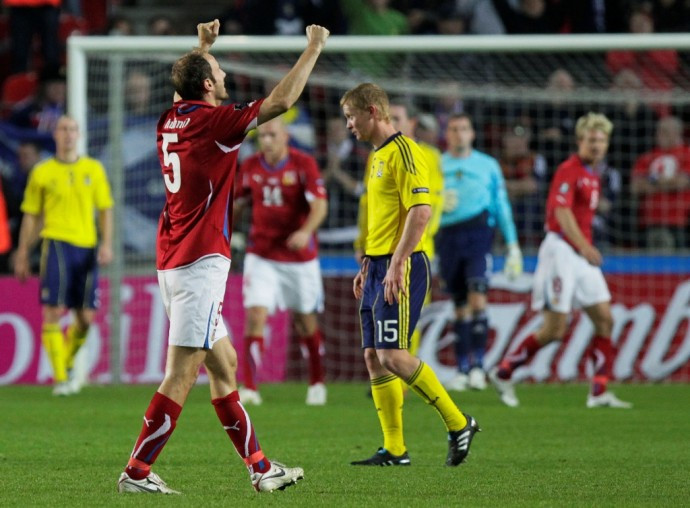 Scotland have lost to the Czech Republic in the third game of their campaign to qualify for the Euro 2012 cup.
The Scots took to the field in an unorthodox 4-6 formation but the Czech's refused to be put off by large numbers in the middle of the field and had the lion's share of attacking play in the first half.
The Czech's Lukas Magera had one of the first notable attempts with a free kick being smashed into the Scottish wall.
Scotland continued to come under continuous attack but managed to defend well enough to keep the scoreline even.
There was a brief scare for Scotland when Darren Fletcher appeared to take an injury, but after a bit of limping he appeared to be fit to continue.
Tomas Rosicky made another serious attempt for the Czech Republic but was also denied by Scottish defenders.
Late in the first half Scotland appeared to come out of their shell a bit and Alan Hutton sent a dangerous cross into the Czech penalty area, but like Scotland, the Czech's were able to keep it out of the net.
At half time the score remained 0-0.
In the second half the Czechs resumed their attack on Scotland with Rosicky sending a corner kick to Michal Kadlec, who heads the ball towards the Scots goal, but to no avail.
Scotland continued to defend but in the end the Czechs got their goal, with another Rosicky corner being headed this time by Roman Hubnik straight into the net, putting Scotland 1-0 down.
The Scots attempted a more attacking field by bringing on Kenny Miller and Chris Iwelumo in place of Jamie Mackie and Gary Caldwell. Barry Robson was brought on soon after to replace James Morrison
Despite this, and four minutes of extra time, Scotland came nowhere near getting an equaliser, meaning the game finished with Scotland 0 - Czech Republic 1.