French police have come under heavy criticism over their handling of the violence between rival English and Russian football fans in Marseille, with some accusing the police of even escalating the trouble with their "heavy-handed public order tactics." They were also accused of having missed multiple opportunities to segregate rival fans.
The use of tear gas was also questioned by British policing experts, The Times reported. The newspaper also reported that a middle-aged fan was critically injured when police fired a canister directly into hundreds of supporters instead of into the air.
British fans present during the clashes claimed that they had performed CPR on the man for 10 minutes, while police looked on, before the authorities intervened, The Times also alleged. The low number of arrests was also questioned as experts said that targeting ringleaders would often help to calm the situation.
The newspaper said that the clash between Russian and English fans kicked off on Saturday 11 June at lunchtime, when large groups of Russian fans reportedly targeted isolated groups of England fans in the old port area of Marseilles. British public order experts said that given the earlier trouble, it was surprising that French police were not in place to ensure that the segregation line inside the stadium was maintained.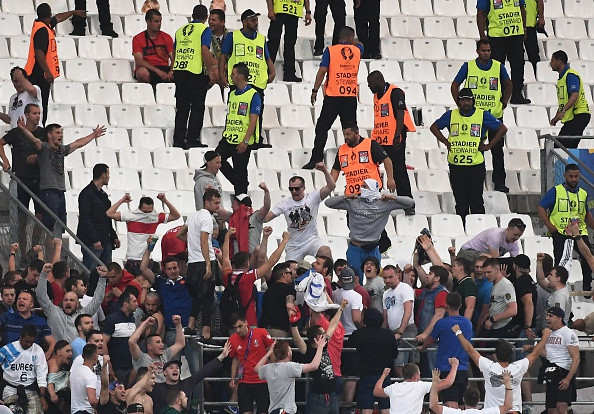 Graham Wettone, a former public order and football intelligence specialist at Scotland Yard, noted that the French methods of handling the situation were in stark contrast to how the situation would have been dealt with in the UK. He said that in the UK rival fans would have been firmly segregated not only in the stadium but also during outside social activities in bars and clubs.
"They [French police] look like they are standing by, waiting for it all to kick off and only then they will deal with it," Wettone said. He said that British police try to avoid violence by mingling with football supporters and quelling potential incidents before they become violent.
He also warned that Lille could see clashes between fans if efforts are not undertaken to identify and arrest the Russian fans responsible for the violent clashes at Marseille. Clifford Stott, a professor of social psychology at Keele University who specialises in policing football, also criticised how the French authorities have been handling football fans.
He claiming the French approach was in stark contrast to recognised international good practice. It was far better to take a proactive, low-profile approach by engaging with fans before problems arose, as against the "heavy-handed reactive approach" in Marseilles.
Geoff Pearson, a senior lecturer in criminal law at the University of Manchester and co-author of Football Hooliganism, also slammed the French police's tactics. Writing in The Times, he said: "The French police remained fixed with the strategy of engaging with crowds, only after they became a threat to public order. So when England were drawn to play Russia, it was clear that the risk of Russian hooligans made serious disorder virtually certain."