1555 BST: Little Changed
It's been a quiet session on the screens, to be frank, with most of the day's excitement coming from the Facebook plunge in the US. Here in Europe, the single currency is just a few pips from where it began this morning (1.2773) and stocks have added about 6 or 7 points (FTSE Eurofirst up 0.472 percent to 977.13) in uninspiring trade.
The only movement of note was in Spain, but even that was a relatively muted 0.34 percent decline for the IBEX 35 to 6,543.2.
We'll see what tomorrow brings ...
1510 BST: No joke
The political party headed by Italian comedian Beppe Grillo looks set to win local elections in the northern city of Parma, according to SkyTG24 TV reports. Grillo leads a three-year old, internet-based protest party known as The 5-Star Movement, whose mayoral candidate, Federico Pizzarotti, may take as much as 60 percent of the vote from this weekend's election.
Grillo has won popularity in Italy for calling for a referrendum on Italy's membership in the single currency and as an outspoken critic of Prime Minister Mario Monti's austerity measures.
1450 BST: Forecaster, investigate thyself
The Bank of England has announced a review into the forecasting record of ... the Bank of England. The review will also look into the Bank's record of liquidity provision during the height of the financial crisis and follows similar performance reviews of the Financial Services Authority and the Treasury.
"I welcome this set of reviews. Major changes to the operations of the Bank have already been made in the light of the financial crisis. These detailed, independent reviews will help to ensure that all the important lessons for the future have been learned," King said in a statement.
The review will be published in October and will be conducted by former BoE official Ian Plenderleith, former JP Morgan director Bill Winters and form Fed offiical David Stockton.
1425 BST: Staying put
A poll published today by Reuters show a slim majority of regularly canvassed money-managers believe Greece will remain inside the Eurozone - at least until the end of 2013. Fourteen of the 22 money market traders Reuters speaks with on a regular basis are not betting on a "Grexit" either this year or next. A similar poll of Economists, conducted by Reuters last week, showed 35 of the 64 questioned felt the same - that Greece would remain a single-currency economy for at least the next two years.
1320 BST: L'addition, Senor?
Spain's Treasury will test the market Tuesday with a €2.5bn sale of 3-month and 6-month bills. The curious nature of financial accounting will allow the bills to form a portion of any given bank's capital buffer - despite the fact that the need for said capital buffer is linked to, inter alia, credit downgrades which became necessary after the Spanish government itself was downgraded earlier this year.
I'm not sure this is going to make investors feel any better.
1310 BST: Status Update: Dislike
Facebook shares fall below $38 a share in pre-market trading.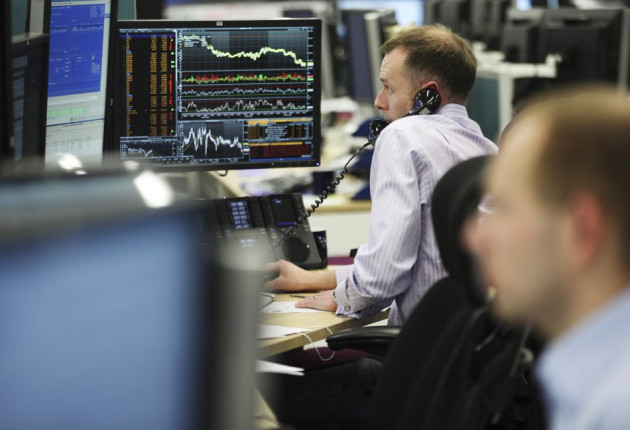 1305 BST: Quick update on the markets
It's been a tepid start to the week that, for the most part, if bereft of macro headlines and largely awaiting the outcome of this week's "informal" EU Leaders Summit.
The FTSE Eurofirst 300 added about 0.5 percent from the open this morning and sits at 975.39. The gains are similar for markets in German and France, while Spain's IBEX 35 is down about 1.05 percent thanks to presistent weakness in some of its banking stocks.
Here in the UK, the FTSE 100 is up by 0.67 percent to 5,302.92.
1255 BST: Mr. Veinzelos, meet Ms Rice-Davis
Greece's Socialist leader Evangelos Veinzelos, appears to be seizing the moment this morning in his remarks to local media. The Pasok Party head says the upcoming vote is, indeed, an effective referendum on Greece's membership in the single currency union.
Well, he would say that, wouldn't he? His party, elected in a landslide only three years ago, was clobbered in the 6 May ballot and is largely detested by Greeks who blame it - and Veinzelos - for agreeing and implementing the crippling austerity measures which have brought the economy five years of recession, hundreds of thousands of lost jobs and national humiliation. The only reasonable form of electoral rebirth for Pasok is though a strategy in which the Greek people become convinced that any vote for an anti-bailout party will edge the country one step closer to the single currency exit.
Mind you, that's a tact being taken by the anti-bailout parties, as well - although for slightly different reasons. Syriza's Alexis Tsipras calls talk of an effective referendum "vulgar propaganda" that seeks to "terrorize the Greek people" in a speech delivered yesterday in Athens. His best chance of forming a majority government will be convincing Greeks he can simultaneously void previous bailout agreements and somehow remain a paid-up member of the Eurozone.
Two Greek newspaper polls from the weekend (from Kathimerini and Metro) say he can. Two others (Proto Thema and Real News) say he can't.
1230 BST: Eurobonds Song Contest
Without the kitsch. European Commission spokesperson Amadeu Altafaj told reporters this morning that any more towards a common bond issuance programme would need closer fiscal union amoung the Eurozone members.
Germany, the loudest voice of dissent in the Eurobonds debate, is likely to accept the former, but will only agree to the latter when a certain farm animal sprouts wings and glides gracefully over the Bundesbank. Only today, in fact, did we hear from a Germany government spokesperson that Eurobonds are "not the tool to overcome the current crisis".
What seems more likely is the issuance of project and investment-specific bonds from the European Investment Bank. EU President Herman van Rompuy recently touted the increase in lending capacity of the EIB to €60bn, giving it a net €180bn in captial capability. That would go some way towards engendering "shovel-ready" stimulus projects around the Eurozone without necessarily contradicting Angela Merkel's view that common debt issuance is a form of moral hazard for the single currencies more profligate parliaments
1135 BST: Barclays shares on the rise
Barclays shares up 1.3 percent following news of Blackrock sale. The world's biggest asset manager saw a net $48bn in assets leave the firm in the first three months of the year as investors moved cash into passive, index-tracking investments as global market risk increased (although $36bn was linked to the withdraw of a single institutional fixed-income client).
The firm posted net income of $572m, or $3.14 a share, for the first quarter on 18 April.
1115 BST: BREAKING NEWS: Barlcays to sell entire $6bn stake in Blackrock Asset Management
Barlcays will offer the entire holding, which is around 19.2 percent, with the aim of buying back around $1bn in Blackrock shares.
Barclays bought into Blackrock three years ago, taking a 20 percent stake when it offloaded Barclays Global Investors in 2009 for around €15bn.
1100 BST: Spanish Red
Spain's benchmark IBEX 35 turns negative for the session, down 1.25 percent to 6,490, led by declines for all of the nation's major lenders. Bankia shares, once up nearly 8 percent on the day, are now only 2.9 pecent to the good after reports that State-owned lender might be preparing to ask for a further €10bn in government aid.
Broader European shares are also looking weaker as we head towards mid-day: the FTSE Eurofirst 300 is up just 1.12 points, or 0.38 percent, to 971.55.
1055 BST: Jim O'Neill on Europe
Goldman Sachs Asset Management Chairman Jim O'Neill writes this morning of his views on the current crisis in a letter to investors. He says a clear "pro-bailout" mandate from Greek voters could elicit more specific policy responses from EU leaders and that, in his view, the 17 June elections *are* being framed as a simple yes/no verdict on membership in the single currency.
More interestingly, however, is his view on how he sees the central view on Europe's austerity strategy weakening after the Presidential election in France and the stinging loss suffered by Angela Merkel's CDU Party in last week's North Rhine-Westphalia poll.
"... in the medium to long term, I think the French election outcome and the subsequent German policy response will be more meaningful to the Euro Area than the Greek election. In this regard, let me repeat that German Finance Minister Schauble's shift in favor of higher wages, and the Bundesbank's recognition that inflation might rise above 2 pct for a period, are both to be welcomed as positive developments. To reiterate, the North Rhine-Westphalia election result adds to the growing likelihood of Euro-denominated bonds with a shared credit rating across the Euro Area."
It would be difficult for Herr Schauble to take a different stance in light of the weekend news that Germany's IG Metall, the country's biggest industrial union, brokered a 4.3 percent headline pay rise for the next year, the biggest single increase since 1992.
1010 BST: Of Pots and Kettles
Britain's Shadow Chancellor, Ed Balls, went on the offensive this morning during an interview on BBC Radio 4, accusing Prime Minister David Cameron of "posturing" during the weekend G8 meeting in the United States and ahead of this week's Leaders' Summit in Brussels.
There's some truth to a portion of the challenge, particularly when Cameron suggested Greece's 17 June elections are an effectivereferendum on Eurozone membership. It's clear - and has been clear for many years - that Greeks have no desire to leave the single currency and that this attempt by European leaders to define Greece's domestic political debate is a shameful intrusion on that nation's sovereignty.
However, Balls is on less firm ground when he follows-up his "posturing" accusation with the hyperbolic view that anything less than a detailed home-run from the Leaders in Brussels will be "absolutely catastrophic for Britain, Europe and the world".
0950 BST: Bankia in cash call

Spanish media outlets are reporting that State-owned lendger Bankia may need an additional €10b to protect against bad real estate loans. The funds would come, according to a report which appeared this morning in the French business daily "Les Echos", in the form of government share purchases in Bankia's parent, BFA, which fell into State control just two weeks ago after the conversion of around €4.5bn in emergency loans into a 45 percent equity stake.
Bankia shares are currently trading 7.6 percent higher in Madrid, where the overall market is around 0.2 percent higher at 6,577.9.
0935 BST:
ECB Executive Board member Joerg Asmussen has urged Europe's leaders not to attempt a renegotiation of the Fiscal Pact, saying growth policies can sit alongside a legislated rules regarding spending and deficits.
Speaking at a conference on Europe and the single currency in Berlin, Asmussen also said a democratically legitimate political union alongside a fiscal and banking union would stabilize both the single currency. His views are echo the increasingly public view that the currency European structure cannot survive in its current patchwork political frame.
He also hammers some interesting detail onto the scaffolding of "growth" policies espoused by, inter alia, France's Francois Hollande. Asmussen says labour and financial market reform, as well as reform of "product and goods markets" would go some way towards engendering economic expansion. He says specific financing could come from European Investment Bank project bonds, which he says aren't the same as Eurobonds.
The far-reaching speech is getting a lot of attention from market professionals on social media and the newswires, suggesting his views will likely form the backdrop of disucussions for this week's EU Leaders' Summit in Brussels, where German Chancellor Angela Merkel will have to dig in her heels against a rising tide of voices demanding changes to the region's current financial and economic strategy.
0920 BST: Flat Earth
Interesting take on the austerity/stimulus debate from Britain's "2020 Tax Commission" which today is making a call for a flat 30 percent tax rate alongside further cuts in public spending as part of a comprehensive plan to boost growth in an economy which, we often forget given the crisis in Europe, is still stuck in its first "double-dip" recession since 1975.
The Commission, which is a joint Taxpayer's Alliance/Institute of Directors project, says the flat rates (for both corporate and income tax) would expand Britain's budget deficit by £4.9bn in the first year of their implementation but would cut public borrowing requirements by £35bn after 15 years.
0835 BST: Spain again
Comments from Spain's Economy Minister, Luis de Guindos, hitting the tape in an attempt to minimize the blowback from late Friday's budget miss. It's 2011 deficit figures were revised to 8.9 percent of GDP from a previous 8.5 percent tally after, de Guindos says, the government was present with unpaid bills from some regional administrations, although he says there's a "strong commitment" from those autonomous regions to meeting deficit targets.
He says he expects Spain's Q2 growth to be little changed from the 0.3 percent contraction of Q1, that the "reality" of Spain's banking system is much better than its current image and that the current situation is Europe is both critical and "complicated".
There's little change in yield in Spain's benchmark 10-year bonds from their opening level of 6.31 percent, but investors are marking credit default swaps on Spain's debt around 7 basis points higher to trade at 560 basis points. Investors are now paying €560,000 each year for five years to insure €10m in Spanish bonds from default, the highest costs on record.
Spain's benchmark IBEX index is off around 0.45 percent to 6,533.5
0825 BST: One of those days
London's FTSE 100 now positive - modestly - on the day while German and French markets are also showing some momentum as the day's tone shakes-out in the early portion of trading. Spain's IBEX and Italy's FTSE MIB, much like last week, remain the principal decliners, down 0.5 percent and 0.6 percent respectively.
0820 BST: London leading to the downside
Britain's FTSE 100 is down around 1.47 percent and firmly into "correction" territory after falling more than 10 percent from its mid-March peak. The globally-focused index would normally show some strength following news of potential stimulus from China, but the overhang of banking sector concerns is keeping a lid on any potential performance.
The Europe-wide FTSE Eurofirst 300 shed around 4.4 points in the opening minutes but has rebounded to 969 and is now just a few ticks into the green for the session.
0805 BST: A few ticks down to kick off the week
European markets open in the red again Monday despite some earlier confidence that a China-led stimulus would give battered investors some support. The declines are modest in the first few minutes but relatively consistent across the board.
The Euro is oddly well-bid at 1.2773 against the US dollar, which did weaken overnight in concert with the mildly bullish Asian session. Ten-year German Bunds are trading at 1.44 percent while Spain's benchmark 10-year bond are marked 6 basis points higher at 6.31 percent.
0755 BST: Good Morning!
The austerity versus stimulus debate, while not exactly "Coke versus Pepsi" does seem to have gone global this week after China's Premier Wen Jiabao suggested the adoption of a "proactive fiscal policy" to support growth in the world's second-largest economy. Asian markets reacted in kind to the assumption of surplus-paid stimulus and lifted stocks around the region from their five-month lows.
The MSCI Asia Pacific Index rose modestly, by around 0.2 percent, but the tone was certainly more bullish that it has been for several weeks - and more than welcome in a global equity market that has given back more than $4tn in value since the beginning of the month.
The potential support comes, of course, after G8 leaders pledged to keep Greece in the Eurozone over the weekend and promised to address the issue of finanical market turmoil and stagnant economic growth. The push for more growth-friendly policies, however, is still being met with resistance from German Chancellor Angela Merkel and will likely provide a tense backdrop to the EU Leader's Summit later this week in Brussels.
European markets are called to open modestly higher today although much of the tone will again be set in the bond markets, where investors are likely to react agressively to the news late Friday that Spain's budget deficit grew to 8.9 percent of GDP from a previously reported 8.5 percent.