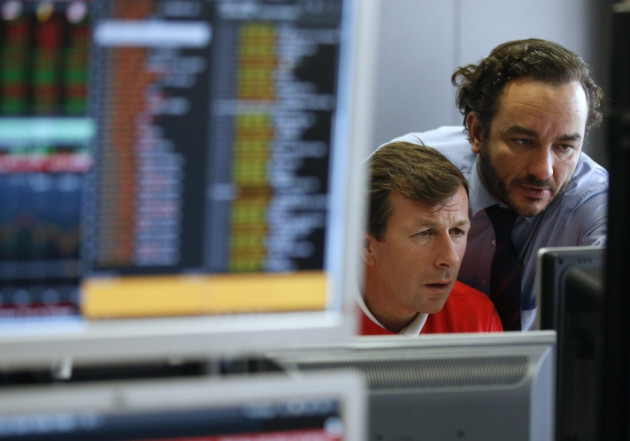 European shares edged up in the opening minutes of trade as US corporate earnings season kicked off on a positive note.
The FTSEurofirst 300 index covering the region's blue-chip stocks added 0.1 percent to 1,161.58. The UK's FTSE 100 gained 0.1 percent while France's CAC-40 rose 0.4 percent.
Spain's IBEX and Italy's FTSE MIB added 0.5 percent. In Germany, DAX was up 0.2 percent.
The single currency eased moderately against the dollar, trading at about $1.30.
Asian markets had ended mixed earlier as US earnings season kicked off in optimism and the Yen regained weak run against the dollar.
Japan's Nikkei ended 0.67 percent higher to 10578.57 while South Korea's KOSPI slipped 0.31 percent 1991.81. Australia's S&P/ASX added 0.38 percent to 4708.10.
In Hong Kong, the Hang Seng advanced 0.44 percent to 23213.37 towards close but China's Shanghai Composite Index ended 0.03 percent lower to 2275.34.
The US earnings season began this week with Aluminium major Alcoa reporting better fourth quarter results and forecasting improved demand for its products this year. Traders are expected to keep a close watch for reports from other firms in the coming days.
The European Central Bank (ECB) and Bank of England (BoE) will meet for policy review this week and speculations are high on the central banks' interest rate decisions. European markets had traded weak in the previous session after official data showed that the bloc's unemployment increased to 11.8 percent in November from 11.7 percent in October and 10.6 percent in November 2011.
German industrial output numbers for November are set to be released later in the day. The indicator, which is considered a crucial economic barometer, is expected to show modest improvement in the month after having slumped 2.6 percent month-on-month in October.
Investors in UK are awaiting November trade balance figures expected to be announced in the day. The country's trade deficit had widened to £9.5bn in October from £8.3bn in September mainly due to an unhelpful combination of rising imports and falling exports, but analysts expect the latest data to be positive, reflecting the reported increase in oil production
"We forecast the goods deficit narrowing to £8.6bn. Excluding this effect, we also envisage some improvement in the 'core' goods balance," said Nikesh Sawjani, economist at Lloyds Bank.
"Looking ahead, the relative weakness of the export component of key business surveys suggests the weaker trend in global activity could subdue the still upbeat trend in non-EU export volumes".
In Asia, investor sentiments picked up after the yen slipped against the greenback encouraging exporter shares in Tokyo.