Arab gangs are threatening to kill and sell the organs of African migrants if relatives refuse to pay ransoms in time.
European crime agency Europol has said the migrants are being kidnapped by criminals who then demand family and friends living in Europe pay thousands of euros for their release.
The agency has warned EU law enforcement authorities about the kidnapping of 'irregular migrants' and the subsequent extortion of their relatives or friends who are residing in Europe.
Ransoms extorted have ranged from €4,400 to €25,700 and have involved multiple negotiation steps where the amount demanded by kidnappers has increased incrementally.
What is Europol?
Europol, short for European Police Office, is the European Union's law enforcement agency.
Becoming fully operational in 1999, it handles criminal intelligence across the union.
It consists of 800 staff and is based at The Hague in the Netherlands.
Although it has no executive powers, Europol's aim is to improve co-operation between member states' law authorities by sharing intelligence to combat serious international organised crime.
Its successes have included dismantling human traffic networks, seizing tonnes of drugs and preventing fraud
Payments were made to multiple cash handlers used by organised criminal groups in locations inside and outside of Europe.
The agency said individuals orginally from Eritrea in the Horn of Africa, but who now live in Sweden, and at least two other European countries have been subject to extortion as relatives are held hostage and tortured in the Sinai Peninsula, in Eygpt.
The extortion operations were run by organised criminals of Bedouin origin, who exploit irregular migrants who had been kidnapped in Eritrea and Sudan.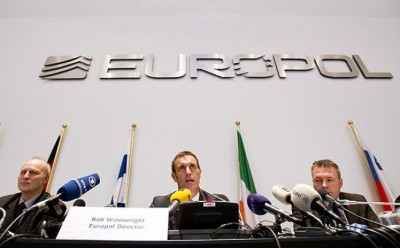 In some cases, hostages have been provided with phones to call European contacts and request cash for their release.
In one instance, a victim's friend living in Sweden was contacted by two Swedish-speaking suspects on local mobile phone numbers demanding €24,000 for a victim being held in the Sinai.
Threatening that non-compliance would result in the victim's death and sale of their organs, the suspects attempted to arrange face-to-face meetings in Sweden for the handover of ransom payments.
Subsequently, the relative was sent regular threatening text messages and given a shortened deadline. In this case, the victim was killed and the transaction was not completed.
What is an irregular migrant?
The term 'irregular migration' typically refers to the cross-border flow of people who enter a country without that country's legal permission to do so.
The law defines immigration status in a binary way as either legal or illegal, but in practice irregular immigration status can involve a wide spectrum of violations of immigration and other laws
There are many pathways to irregular migration status and the most frequent in the UK is likely to be 'visa overstaying'.
Cecilia Malmström, from the European Commission for Home Affairs, said: "This is a worrying and sad phenomenon – a terrible tragedy that is also having direct consequences in our member states.
"It needs to be tackled from every possible angle. I would like to call for more cooperation between member states, in particular regarding the extortion of individuals and the organised crime groups operating within Europe that support and perpetuate the horrendous practices occurring in the Sinai."