Eva Green's breasts haven't been given this much attention since, well, 300: Rise of an Empire in March actually. Alas, only a few months after the release of that film her next production has put her assets front and centre once again.
After the Motion Picture Association of America (MPAA) decided to ban a poster for 'Sin City: A Dame To Kill For' last week, essentially for being too sexy, studio Dimension Films declared that they would re-edit the poster to make it more suitable for public display.
Clearly intending for the MPAA to act in this way and consequently shine a spotlight on their film, now Dimension have given the British actress a boob reduction on their edited poster – once again prompting fine, hard-hitting journalists such as myself into action.
Here are the two posters side by side...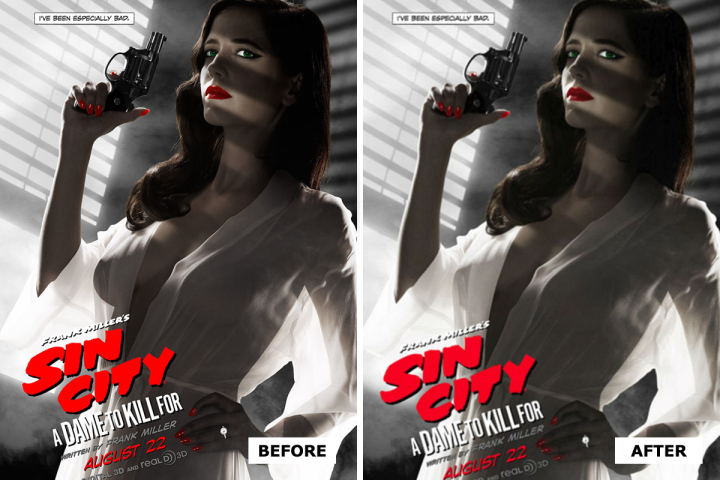 Eva Green has also defended the original poster, telling Vanity Fair she finds the whole thing "a bit odd", adding: "It seems like it's all just publicity - a lot of noise for nothing."
She's right.
The original poster was banned "for nudity – curve of under breast and dark nipple/areola circle visible through sheer gown". Now the areola is gone thanks to some photoshopping and the boob curve has been, erm, lessened?
Let's face it, this is all nonsense. What's the harm of showing off a little boob (or a lot of boob) to sell a comic book film about sex and violence?
Sex sells after all and note how the MPAA don't object to the gun Green holds in the poster. What's more dangerous to society, posters for major films making guns appealing or a little side-boob?
Exactly.
Sin City: A Dame To Kill stars Joseph Gordon-Levitt, Jessica Alba, Josh Brolin and Bruce Willis. It will be released on 29 August and have a lot of guns and un-edited boobs.