In the eighties it was Manchester United vs Liverpool. In the nineties and early noughties, it was United vs Arsenal. But nowadays there's only one contender for the title of 'England's El Clasico', and it involves United and Chelsea.
Before Liverpool and Arsenal fans accuse me of being biased, analysing the balance of power through my blue-tinted spectacles, let me point to the various factors that underpin this assessment.
First, there is the trophy haul of the respective clubs. Since Jose Mourinho arrived in 2004, Chelsea and United have hoovered up eight of the 10 Premier League titles on offer, and Chelsea look set to make it nine from 11 this season. Between them Chelsea and United have won 23 major trophies in that 11-year period (not including the Community Shield) and they contested the only-ever all-English Champions League final.
In addition to those bulging trophy cabinets, you've got to think about the players who've represented the two clubs in the decade since Mourinho took Chelsea to their first Premier League title. Think of the best players who have graced the Premier League in that period, the sort of player who would have walked into most sides in the world, and pretty much all of them have represented Chelsea or United. Ronaldo, Rooney, Lampard, Drogba, Terry, Ferdinand, Hazard – Chelsea and United have consistently lured the marquee players, while Liverpool and Arsenal have generally relied on players from the second tier (Steven Gerrard excepted).
Finally, you've got to consider the quality of the games. Whenever I've attended a Chelsea-United match as fan or commentator, I've left feeling like I've witnessed something utterly captivating. The games aren't always particularly aesthetically pleasing, but there's always a huge moment – a controversial sending-off, a late winner, an individual performance that makes you glad to be a football fan. Liverpool-United still generates huge amounts of passion and partisan hatred, but the games haven't always lived up to their historical billing.
Now English football's two modern giants are preparing to lock horns. And I see them as being pretty evenly matched. Chelsea are certainly not underdogs, and the absence of Michael Carrick and Daley Blind will help them. But, given the two sides' respective form, Chelsea will be far less bullish about their chances than they were when they went to Old Trafford in the autumn.
That day Chelsea were purring and United were stuttering; Louis van Gaal's squad was riddled with injuries and the defence was all over the place. When Robin van Persie scored the equaliser, United celebrated as though they'd won the title, so thrilled were they to get anything against the all-conquering Mourinho machine.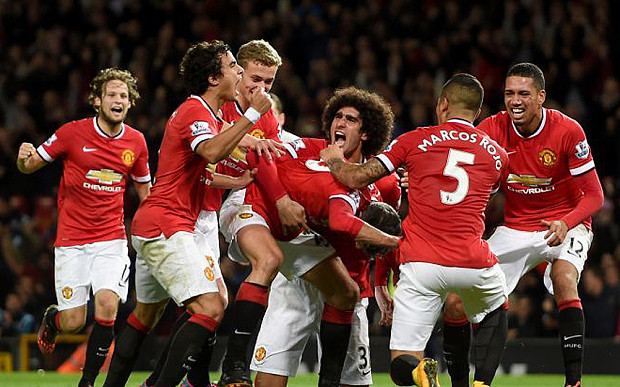 Now, though, United will be much more confident. The injury situation has finally cleared up, and Van Gaal has settled upon a winning combination. With Marouane Fellaini as the wrecking-ball and Juan Mata the tip-toeing conductor, Van Gaal has found a way to get the best from the squad at his disposal, and they're showing a ruthlessness that was palpably absent during the winter months.
With this in mind, I think Mourinho, like his Dutch counterpart, will be happy with a draw. Chelsea will be cagey, looking to soak up United's pressure and hit them on the break, through Eden Hazard. United's recent resurgence has been predicated on an aggressive pressing game; Chelsea will look to lure their opponents in, rather than trying to fight fire with fire.
To an outsider, this might seem overly cautious. The league table suggests Chelsea are a significantly better team than United, and they're at home this time, while the visitors arrive with a few injuries. But I think most Blues fans would accept the wisdom of a conservative approach tomorrow. With Costa out, and most of the other key men off-form, they know that a draw will be a point gained rather than two dropped. In many ways it feels like the second leg of a Champions League game, when Chelsea already have the away goal.
Can United storm Mourinho's fortress and claim victory at a venue which has brought them only one league victory in the last 17 years? Well I think they can, but Fellaini will have to be at his brutish best. He may not be the prettiest player in the world but he gives United something different, an X-factor which opponents find extremely difficult to cope with.
United's other key man of recent weeks, Mata, needs to be at his best as well. Chelsea's defence has been key to their title push this season, having only conceded seven goals at home in the league, but Mata has the guile to unpick it. Two of the players who scored penalties for Chelsea in the 2012 Champions League final, David Luiz and Frank Lampard, have already scored against them this season, and Mata has the chance to make it a nightmarish hat-trick for Blues fans on Saturday.
Whatever happens, though, I'm sure we'll have a major talking-point on Monday morning – the sort of seminal moment which makes England's El Clasico so thrilling for all concerned.
Jason Cundy was a hero at Stamford Bridge as a no-nonsense centre-half during the early 1990s. Today he presents the popular Sports Bar radio show on TalkSPORT, and you can find out more about his work with the station here.
He also commentates on Chelsea games for Chelsea TV, working with fellow IBT columnist David Chidgey,and is a prolific member of the Twitterverse.