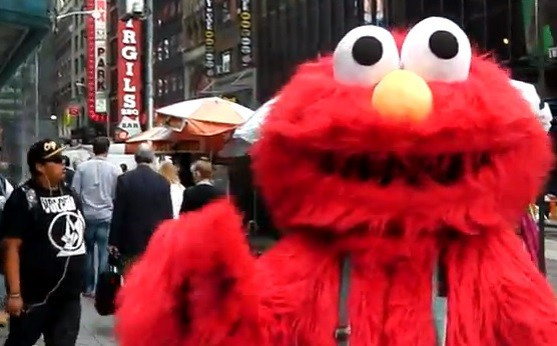 An '"evil" Elmo impersonator who is known to have made anti-Semitic rants has appeared in court for trying to extort $2m (£1.7m) from the Girl Scouts.
Homeless Dan Sandler is accused of threatening to spread false rumours that the Girl Scouts of the USA arranged for underage girls to have sex with men.
The 50-year-old, who begs for money in his Sesame Street character costume, pleaded not guilty to extortion in a New York court.
He gained infamy as Evil Elmo when he was arrested for disorderly conduct for screaming anti-Semitic abuse at tourists. He was filmed saying: "The Jews are responsible for everything that's wrong with the world! I hate Jews!"
According to Manhattan prosecuter Lauren Littman, Sandler was also involved in an incident in San Francisco where he took a child by the arm and made sexual remarks. The child's parents did not press charges.
In the extortion case, Sandler threatened to destroy the reputation of the Girl Scouts, which he had worked for as a temp five years ago. In emails, he demanded a high-paid job or a settlement of $2m.
He began sending emails to a supervisor he met while working at the Girl Scouts. When she asked him to stop, he began threatening to spread rumours.
Mental health issues
Prosecutors said he wrote an email reading: "I want a telecommute job from home for life at 150K or a two million dollar cash settlement. As you know, the newspapers like to cover my evil Elmo scenario.
"How you treat me as a person will go a long way in regards to how I treat the Girl Scouts in the press, on the internet and on YouTube."
According to the New York Post, Sandler said he would connect the Girl Scouts with a graphic porn website he was arrested for running in Cambodia in 1999: "I will show up at Girl Scout functions and other places that parents and kids congregate and hold signs, connecting the Girl Scouts ... with the Cambodian Rape Camp man."
Prosecutors also say he attached a picture in one of the emails showing an Elmo costume being stuffed into a car boot: "Interstate Kidnapping of Elmo," it was titled.
Littman said the emails became "increasingly alarming and bizzare".
Lawrence Gerzog, his defence lawyer, said Sandler was suffering from mental health issues and that he does not present a real threat. His bail was set at $200,000.
Prior to his arrest, Sandler had been living in his car and busking as Elmo. The Girl Scouts has not yet released a statement about the case.
Warning: Video contains offensive language