Police attempts to ban Tommy Robinson from attending future England football matches – in part because he held up a "F**k ISIS" flag during the Euro 2016 tournament in France – have been rejected in court after a judge criticised the evidence provided by one of the country's most senior officers as "cagey".
The former English Defence League (EDL) leader appeared at Luton Magistrates' Court on Monday (19 September) to contest a football banning order brought by Bedfordshire Police.
Wearing a suit, tie and matching Union Jack socks, he welcomed the judge's decision and accused the police and Home Office of continually targeting him for his political campaigning and anti-Islam views.
He told IBTimes UK: "The government have done anything and everything they can to disrupt my life ... What I want to know is when is this going to stop?"
The application was made with the anti-hooligan UK Football Policing Unit (UKFPU), a specialist team answerable to the Home Office that has been imposing bans on violent fans following clashes between supporters during the Euros.
It would have seen Robinson, real name Stephen Lennon, banned for at least three years from attending any football match at home, or abroad at the Russia 2018 World Cup, and from entering his home town of Luton on match days.
The prosecution alleged Robinson's presence at matches had the potential to be "a catalyst" for disorder or violence, pointing to his "high presence" on social media and previous criminal history of violent or disorderly behaviour.
The application also said a recent incident in France during the Euros – where he was pictured on Twitter with an anti-Isis flag and wearing a T-shirt with a cartoon of someone urinating on a black "Isis flag" – was inciting racial hatred, with the prosecution branding it "confrontational and provocative behaviour".
'Catalyst for disorder'
In a rare appearance at court, the UKFPU's assistant director, Roger Evans, also gave evidence in support of the banning order.
He described Robinson as a "potential catalyst for disorder" saying certain individuals caused problems through their "perceived racist comments". He added: "If you insert into the mix an individual like Lennon [aka Robinson] with high social media presence – then it's that which provides a potential catalyst".
But Robinson, who now leads anti-Islam group Pegida UK, denied he was a risk to creating disorder, and instead said he was a victim of attempts to restrict his free speech.
His defence lawyer, Alison Gurden, told the court the police had already admitted her client had not been involved in any football-related violence for several years, including at this year's Euros, and that he had even gone out of his way to inform officers of his plans to attend matches abroad.
She had also alleged the application was an "abuse of the legal process" and was being used as a "ruse to create an exclusion zone in Luton so that [Robinson] cannot undertake any political protests on Saturdays".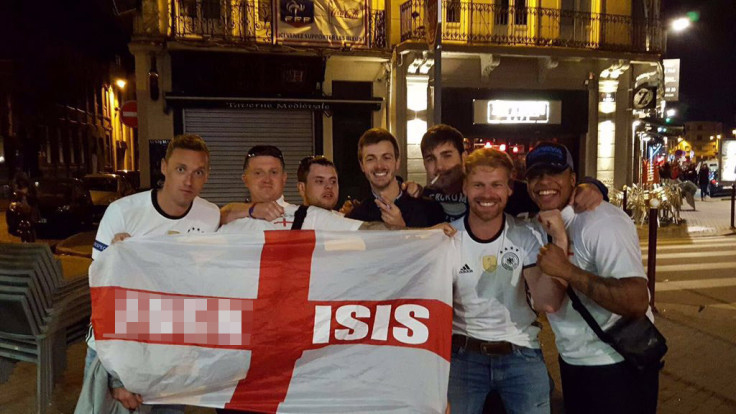 At one point, she questioned in court whether her client was being unfairly "targeted" by police or the Home Office because of his political views.
At apparent surprise at Robinson's anti-Isis T-shirt and flag being used as evidence against him, Gurden asked: "Does the UKFPU not consider Isis a terrorist organisation?"
Evans said the photographs were evidence Robinson was engaged in "stag weekend behaviour ... like 'lads on tour'", with the prosecution also telling the court it was "behaviour that could be a catalyst for disorder".
A three-hour hearing, which also heard evidence from two Bedfordshire Police officers, ended with District Judge Matson rejecting the application, saying she was not satisfied a banning order would help prevent football-related violence or disorder.
She noted it was not disputed that Robinson had in the last 10 years "acted in a violent and disorderly manner," adding that he had been handed a three-year football banning order in 2011 after being convicted following a brawl between supporters of his home town of Luton and Newport County fans.
She said: "It is also not disputed that Mr Lennon [aka Robinson] posted some photos of himself whilst in France during the European Championships with a flag stating 'F**k Isis' and wearing a t-shirt with a person urinating on what appears to be an Isis flag ... I find that to display a flag with the word 'f**k' on it, whatever word follows, and to wear a t-shirt with someone urinating, whatever on, is offensive."
But she added: "I must also consider an individual's ability to change their behaviour. His actions in recent years have shown that he can attend regulated football matches, both here and abroad, and not become embroiled in violence or disorder – in fact, I accept that he has sought to avoid it."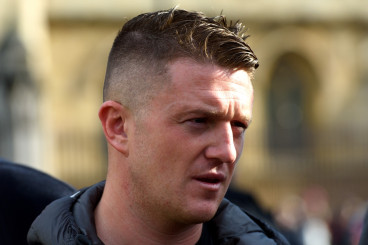 The judge also noted Evans, a former superintendent for the Met Police, appeared uncertain on the answer to "straightforward" questions from the defence, including over who originally requested the football banning order – the Home Office's UKFPU or Bedfordshire Police.
She described his evidence as "cagey" and "vague", saying she "didn't find genuine" his failures to answer certain questions.
Robinson told IBTimes UK outside the court he was delighted at the outcome of the hearing but still disturbed by the police's actions. This included officers turning up at his home on several occasions in view of his young children.
He said: "I should be really excited and happy but I'm not. I'm still frustrated and angry.
"I'm still angry at what they've been allowed to get away with. Again they've sent officers into my house in front of my children, they've left lasting effect on my kids' lives through their actions which today we found out are completely unjust.
"What I want to know is when is this going to stop? This is just ongoing and ongoing. This is something else their doing in order to disrupt my life all the time."
Robinson and his lawyer are expected to make an application for compensation and court costs in the coming week.
England fans hit by wave of bans to prevent Ultra clashes at 2018 Russia World Cup
Tommy Robinson is just one of a number of England football fans returning from the Euro 2016 competition to find themselves being served with football banning orders.
This follows three days of violence in Marseille following clashes between England fans, Russian supporters and locals. There was further fighting in Lille the following week, also involving England fans, with UK police spotters filming troublemakers.
The banning orders are made by separate police forces but at the request of the Home Office's UK Policing Football Unit.