Pegida founder Lutz Bachmann is to speak to British supporters for the first time at an upcoming anti-Islam rally in Birmingham. The German national – whose group calls for the "end to the Islamisation of the West" – has become a divisive figure in his home town of Dresden, leading rallies that at one point attracted tens of thousands of people.
He will address supporters of the UK branch of Pegida at its second national march in Birmingham on Saturday (2 April). Led in part by ex-English Defence League (EDL) head Tommy Robinson, Pegida UK has also invited German Pegida figurehead Siegfried Daebritz to speak.
Robinson told IBTimes UK: "Lutz is a good friend and has been leading the way in Europe with Pegida. We had a peaceful walk with no aggression during our last march in Birmingham, so we're hoping for the same on Saturday. Hopefully more people will come this time, but I still think we have some way to go until people see what we're about and join us."
Bachmann, 43, began Pegida in October 2014 to protest plans to build more than a dozen refugee centres in Dresden. The migrant crisis and the threat of Islamist terrorism since saw his rallies grow in popularity, at one point reaching an estimated 20,000 people.
His supporters praise him for helping pressure the German government over what they perceive to be excessive immigration. But critics have accused his group of using provocative language that spreads Islamophobia and demonises migrants, especially Muslims.
In January 2015, he resigned as head of Pegida shortly after a picture emerged of him dressed as Adolf Hitler. The photograph was since said by Bachmann to have been old and meant as a joke, with him claiming the image had been doctored to include a toothbrush moustache.
Bachmann, who was re-elected as leader a month later, is now facing hate speech charges after allegedly describing immigrants as "cattle" and "scum". He is due to stand trial in Germany in April and May.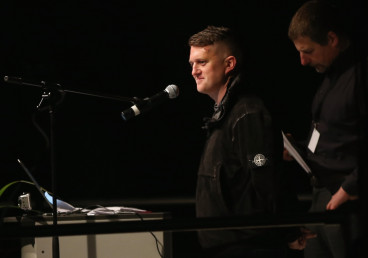 His appearance in Birmingham on Saturday will mark Pegida UK's second national march since it was formed in December 2015. Led by former Ukip parliamentary candidate Paul Weston, the group's "silent walk" in February saw an estimated 200 supporters turn up.
The group's leaders – who have called for a halt to immigration and describe Islam as a "fascist" ideology – vowed to return to Birmingham every month, saying by the end of the year they wanted 100,000 supporters on the streets. West Midlands Police say they expected about the same number to turn up on Saturday as before.
The day will see Pegida UK march along the same route, with the group due to gather at Birmingham International train station on the outskirts of the city at about 2pm. They will then walk to an industrial estate car park, where Bachmann, Robinson and the rest of the group's leadership will make speeches.
Counter-protests by anti-fascist groups – which accuse Pegida of spreading hate – are once more expected to take place on the route. The police say there are plans in place to "minimise the risk of potential flashpoints".
The protests in February were largely peaceful with just one arrest made of an opposition protester.