A police operation to prevent a repeat of the violence which marred the Euro 2016 tournament has seen England fans handed a fresh wave of bans to stop them travelling to Russia for the 2018 World Cup.
Supporters returning home from France have already been visited by uniformed police at their homes and places of work, as officers look to prosecute those responsible for some of the shocking clashes in France.
With England dropping out of the tournament following their defeat to Iceland on Monday (27 June), investigators in the UK Football Policing Unit (UKFPU) have now been scouring through hours of CCTV footage, social media posts and evidence taken from their own police spotters out in France to identify violent hooligans.
So far, 16 fans have been served with football banning orders on their arrival back in the UK, figures provided to IBTimes UK showed. Photographs of almost 100 other suspected hooligans have been released by UKFPU in a public appeal. The bans, which last a minimum of three years, mean they will be stopped from travelling to Russia for the 2018 World Cup, where there are already fears of violence.
A spokesperson for the National Police Chiefs' Council (NPCC), which helps lead the UK Football Policing Unit (UKFPU), said a further wave of bans could be expected in the coming weeks.
They told IBTimes UK: "We believe the operation [in tackling hooliganism] has been quite successful. We managed to prevent 99% of those identified as potential troublemakers from travelling to France, which is our highest ever compliance rate. And if you also look at the games after Marseille, officers helped put in place measures that saw some success in preventing further disorder. This included curfews and a ban on glass bottles being sold.
"But officers are still looking through CCTV footage and evidence on social media which could result in more bans in the coming weeks."
Almost 2,000 supporters from the UK were forced to hand over their passports before the opening Euro 2016 game on 10 June after being identified as potential troublemakers. This failed to prevent ugly scenes erupting in various French cities, however, where England fans gathered to watch their team's group matches.
Marseille saw three days of heavy fighting between England fans and Russian Ultras before and after the two teams' opening match at the city's Stade Velodrome on 11 June. Some 35 people were injured, including two England fans beaten so badly they were left in a coma.
French police later said about 150 "ultra-violent" Russian fans were responsible for most of the violence. Dozens were arrested or deported from the country while six England fans received jail sentences.
Further clashes in Lille, also involving England, Russia and local supporters, saw more injuries and arrests as French riot police struggled to control the city centre with tear gas. Dozens were arrested and 16 left recovering in hospital.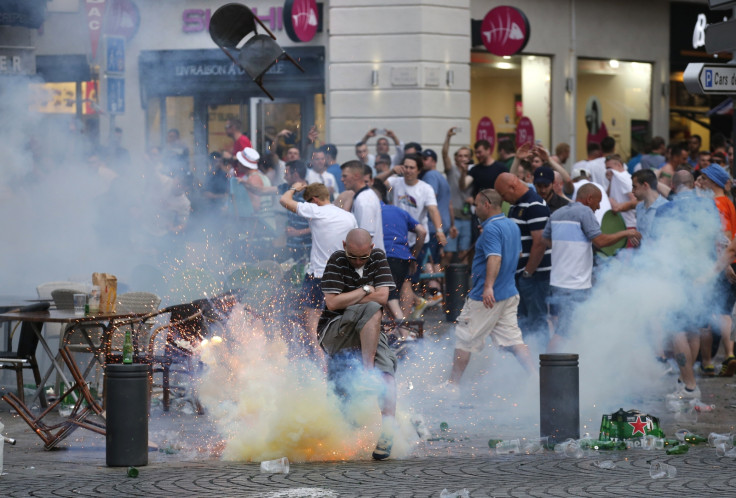 But the battle in the coming weeks, months and possible even years to prevent hooligans from travelling to Russia in 2018 (assuming England qualify for the World Cup) has raised concerns over whether the bans being imposed have been heavy handed.
One England fan who travelled to Lille and found police officers at his front door after returning from France is Tommy Robinson, the former leader of the English Defence League (EDL). Curiously, there was no suggestion the 33-year-old was involved in any violence or disorder while watching the Euro 2016 matches.
Instead, his lawyer claims police slapped him with a football banning order for wearing an anti-Islamic State (Isis) shirt and for holding a flag with the words "F**k Isis" printed on the front while in Lille. This was, officers claimed, an example of Robinson "inciting racial hatred".
Alison Gurden, representing Robinson, and a barrister who specialises in football bans, said she had strong concerns the UKFPU, which answers to the Home Office, was being overzealous in its approach. "I'm worried the Home Office is running a big spin campaign so they can say, 'this is how many people we have imposed banning orders on'. Just this week I was dealing with one lad given a banning order simply for sitting among the away fans during a game."
She said of Robinson's case (which is being contested in court in September): "The mainstay of the application by Bedfordshire Police is that Tommy Robinson, while in France, was pictured wearing an anti-Isis T-Shirt, and holding up an English Saint George Cross flag with 'F**k Isis' written across it, and that this was aimed at inciting racial hatred against Muslims.
"Both I and my client are very concerned that the Chief Constable of Bedfordshire Police and the UK Football Policing Unit have equated Tommy Robinson's demonstration against a banned extremist terrorist organisation as being the same as showing hatred towards people of the Muslim faith."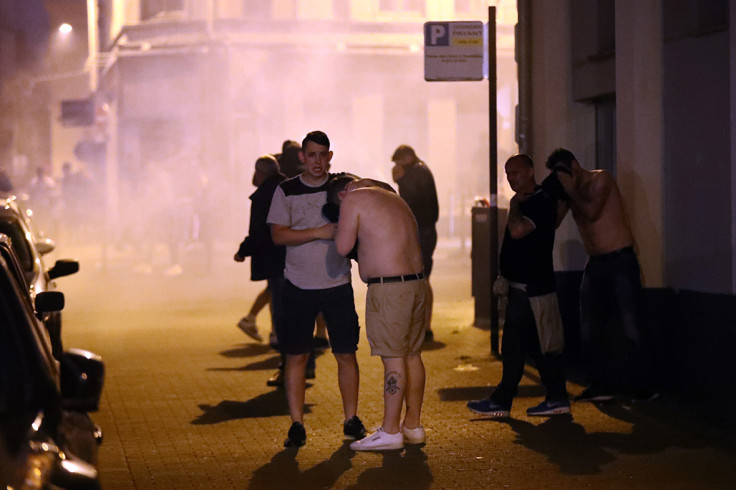 In total, 65 UK football fans have been arrested in France during Euro 2016. England topped the list with 45 supporters detained, with 11 Northern Ireland and nine Wales fans also taken away by French police. Offences ranges from drunkenness and public order offences, to assault and criminal damage.
Speaking during a Westminster Hall debate on football hooliganism, Home Office Minister Mike Penning told the Commons: "It is enormously disappointing that the vast majority of football fans that went to support their country, no matter what part of the United Kingdom they come from, were tarnished by a small minority of people that ended up in the most abhorrent violence probably we've seen for many, many years.
"We must not condone it and [must] come down with the full force of the law and make sure, for instance, that those arrested – and they don't have to have been prosecuted – have banning orders put on them for what they did out there."
He went on to suggest football clubs should provide more money to help tackle the problem.