Ex-House Speaker Dennis Hastert jailed for hush money crimes linked to molestation allegations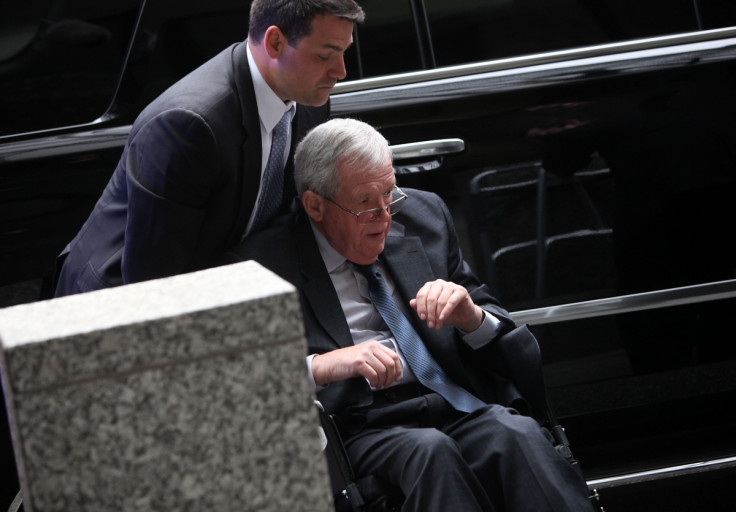 Former US House Speaker Dennis Hastert has been labelled a "serial child molester" and sentenced to 15 months' jail after he admitted paying hush money to his victims. The Republican served under presidents Bill Clinton in 1999 and George Bush between 2001 and 2007 but his reputation is in tatters as he becomes one of the highest-ranking politicians in US history to go to prison.
Hastert pleaded guilty in 2015 to lying and violating banking law, but the 74-year-old cannot be tried for sexual abuse because the statute of limitations passed years ago.
On 27 April Hastert admitted in court that he had "mistreated" five former student-athletes when he was a teacher at Yorkville High School, in a suburb of Chicago, Illinois, from 1965 to 1981.
Federal prosecutors told the court that the father-of-two had illegally made bank withdrawals worth $1.7m (£1.2m) to pay some of his victims to stop them going to the media. Hastert also admitted agreeing to pay $3.5m (£2.4m) to someone to keep quiet about "prior misconduct".
Hastert did apologise to his victims during the hearing saying: "The thing I want to do today is say I'm sorry to those I hurt and misled. First I want to apologise to the boys I mistreated when I was a coach. What I did was wrong and I regret it," Sky News reported.
In addition to his sentence, Judge Thomas Durkin ordered Hastert to undergo sex offender treatment and pay $250,000 (£171,000) to a crime victims' fund. Durkin added: "Some conduct is unforgivable no matter how old it is."
One of his victims, Scott Cross, now 53, was a member of a wrestling team coached by Hastert and he fought back tears telling of his "intense pain, shame and guilt", telling the court: "As a 17-year-old boy, I was devastated. I tried to figure out why Coach Hastert had singled me out."
Cross was known as "Individual D" in earlier hearings and had said that Hastert put a Lay-Z-Boy reclining armchair in direct view of the boys' showers where he would sit and watch them. Despite his evidence Hastert said he did not remember Cross, but admitted that he abused others.
"Staying silent for years was worse," Cross added. "It is important to tell the truth. ... I could no longer remain silent."
One of the alleged victims was identified as Stephen Reinboldt, who died of AIDS in 1995. His sister, Jolene Burdge, said her brother felt "betrayed, ashamed and embarrassed". Two other accusers said the Illinois-born politician performed sex acts on them in the high school locker room when they were 14 and 17.
US banking officials lifted the lid on Hastert when a series of cash withdrawals took place from 2010to 2014 which were all in increments less than $10,000. Prosecutors said this was to avoid triggering bank filing requirements.
© Copyright IBTimes 2023. All rights reserved.