Ray Tensing, the white policeman standing trial for murder and voluntary manslaughter after fatally shooting of unarmed African-American Samuel DuBose, was wearing a T-shirt bearing the image of the Confederate flag at the time of the killing, a court heard this week.
The black T-Shirt, of which images were shown to the court, also bore the slogan "Great Smoky Mountains" alongside the year 1934, the year in which the national park was established there.
DuBose, 43, died after he was shot in the head by Tensing last July.
Though the Confederate flag is widely known for its association with white supremacists, local news outlet WCPO said the evidence was met by social media users with mixed opinions.
While some, including Cincinnati City council member PG Sittenfield said it was not appropriate for law enforcer to wear the image, others members of the force testified that it was necessary for officers to wear black T shirts under their uniforms and that they were required to provide their own.
DuBose's sister, Terina Allen, said the evidence reaffirmed 26-year-old Tensing's guilt. She said: "I already knew Tensing was a murderer, but now I just thought, clearly, something's wrong with his spirit… That's evil there.
"Why is he wearing a Confederate flag when he's a police officer? I don't think it represents anything except blacks are not equal in this country or slavery should never have been abolished, and he's wearing it while he executes a black man."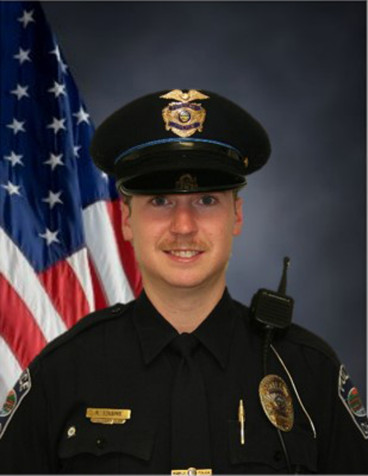 DuBose was stopped by Tensing in July last year for driving without a front license plate on his vehicle.
The authorities said that DuBose drove for around a mile before pulling over and when asked to show the officer his license, was unable to do so.
A struggle ensued after DuBose refused to get out of the vehicle, resulting in a single, fatal shot being fired.
Though Tensing's defence argue the police officer was dragged by the vehicle as DuBose made to drive away, prosecutors have argued the footage proves there was nothing violent about DuBose's actions.
Speaking about the shirt produced as evidence this week, Ohio State Senator Cecil Thomas, who was present at court, told WCPO: "The fact that it's a Confederate flag that you hid is your mindset underneath that shirt. That speaks volumes as to what kind of officer [he is]."
A local bishop, Bobby Hilton who was also present at the trial, said after three days of testimony he had a degree of sympathy for Tensing before the T-shirt was revealed. He said: "I was feeling really bad for Tensing figuring he just made a horrible error, but when I saw that, that took my mindset to a whole different place."
The Confederate flag, which has is synonymous with the oppression of black people in the US, has continued to divide the nation in recent years. In 2015, an argument broke out as activists demanded it be banned in the state capitol of South Carolina, Charleston, following the shooting of nine black church-goers in a racially motivated attack.