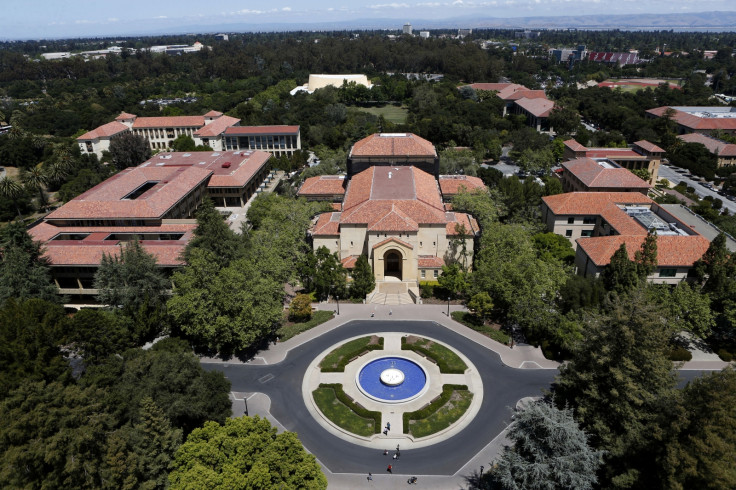 A former Stanford University professor has claimed she was pushed out from the elite school after reporting sexual harassment by a senior staff member.
Michelle Karnes said she politely rejected the alleged advances of Stephen Hinton, who reportedly had a "crush" on her and was "tormented" by his feelings toward her.
Despite Karnes's rejections, however, Hinton is said to have continued his attempts at seducing her.
"I just wanted to crawl out of my skin. I was so uncomfortable," Karnes, 42, told The Guardian. "I was really scared."
After Karnes made a formal complaint, the university concluded that Hinton, who is 20 years older, had made an "unwanted sexual advance".
It is not clear what action was taken against Hinton after the report, but Karnes alleges that she was the target of retaliation.
Though Karnes's tenure was approved in 2015, she learned that her husband's role at Stanford would not be renewed the following year.
Karnes told the Guardian that she and her husband were hired as a "dual-career academic couple", and said it was highly unusual for Stanford to grant tenure to one spouse and terminate the other after years of service.
After she reported the harassment, Karnes claims that Tanya Luhrmann, Dean of humanities and sciences, "repeatedly encouraged her to leave Stanford".
Karnes said she decided to speak out after hearing so many stories of harassment and retaliation at Stanford, often involving powerless graduate students.
Her story is a further embarrassment to Stanford, which has come under fire for a variety of similar sexual harassment cases in the last few months.
It has been claimed that the institution has policies and a broader culture that systematically fail to acknowledge the problem.
Tammy Frisby, a research fellow at Stanford's Hoover Institution, who has testified about sexual harassment at her office, said the behaviour of Stanford was unsurprising.
"It's a culture of intimidation, where the university very clearly wants to send a message to women that you should not speak up or we will go after you," she said.
"When the university comes to do an HR investigation, they aren't on your side. The university is on the university's side."
Hinton denied the allegations. The university spokeswoman, Lisa Lapin, claimed the university conducted a "thorough and objective review" of Karnes's allegations. However, she declined to comment further on "personnel matters".