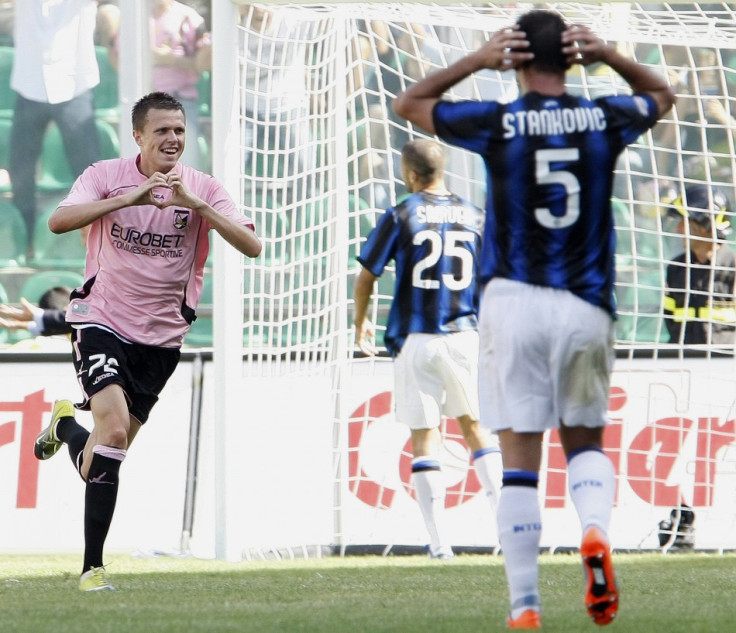 The agent of Palermo sensation Josip Iličić has told the International Business Times UK that Chelsea and a number of their Premier League rivals are monitoring the Slovenian international, but as of yet there have been no formal offers.
Amir Ruznic told the IBTimes that he had not been contacted by Chelsea yet openly revealed his client had attracted the attentions of a number of clubs in Europe following a spate of impressive displays in Serie A. He also suggested Iličić has an escape clause written into his long term deal which was only signed in June.
Chelsea were reported to have had the player watched during his eye-catching performance against Fiorentina recently, amid speculation Andre Villas-Boas is considering a lucrative raid on Palermo in the January transfer window in order to reignite his side's failing fortunes.
The Portuguese tactician's defence and in particular their much maligned high-line has been held largely accountable for Chelsea's recent malaise.
Chelsea have lost five of the last nine matches, and although their defence has been culpable, midfielders Jon Obi Mikel, Florent Malouda and Frank Lampard have not escaped criticism.
Iličić scored against Fiorentina during the aforementioned match Chelsea were believed to be watching and the lavishly gifted playmaker has thrived at the Stadio Renzo Barbera since Javier Pastore left the club in the summer.
Although Iličić's representative insisted his client was happy at Palermo and enjoyed the acclaim of the fans, he intimated the youngster would welcome a move to the Premier League should one materialise. He confirmed there had been no formal offers from Chelsea but intriguingly revealed there was a fixed term buy-out clause in his contract, that if matched allows the youngster to leave "without negotiation".
"I do not know about the rumours regarding Chelsea but Josip is being observed by many clubs in England and in Europe." Ruznic told the International Business Times UK.
"No one from Chelsea has contacted me but he is obviously interesting a number of clubs in the Premier League.
In addition to confirming Premier League interest in the 6ft 2inch playmaker, Ruznic revealed his client had an escape clause written into his lengthy contract.
"Josip has four years left on his contract but there is a fixed term clause in it. I can't tell you what the amount is, but if a club match it he can leave without negotiation." Ruznic confirmed.
"He is very happy at Palermo and the supporters love him very much but if there is serious interest from a big club in Europe, we would obviously all sit down to discuss it.
Whilst happy to state the 23-year-old's happiness at Palermo, the youngster's representative admitted the Premier League is the best division in the world and an ambition for all the top players.
"Every player in the world would like to play in the Premier League." Iličić's agent concluded.
Liverpool, Arsenal, Tottenham Hotspur and Inter Milan have also all been credited with an interest in a player who has made 14 appearances for the Slovenian national side.