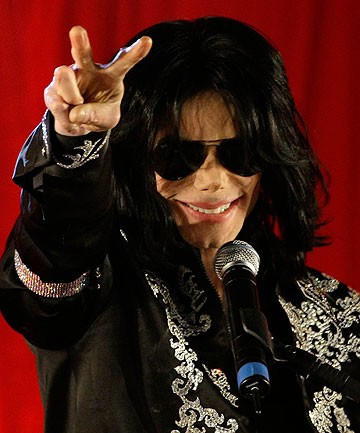 Wardrobe items of the King of Pop, Michael Jackson and ephemera from the collection of designers Dennis Tomkins and Michael Bush will go under the hammer at Julien's Auctions.
The popular auction house announced that these pieces have not been seen since Jackson wore them on stage and in his videos. They will be offered for sale for the first time on 2 December, 2012 at the Julien's Auctions Beverly Hills Gallery as part of the annual Icons & Idols auction.
The exhibit and auction include the designs created by Michael Jackson's long time costume designers Dennis Tompkins and Michael Bush, which are also featured in the highly anticipated illustrated book by Michael Bush, Dressing Michael Jackson: Behind the Seams of a Fashion Icon. This book will be published by Insight Editions and will be available from 16 October, 2012.
The collection of Jackson clothing and wardrobe offered for sale, and seen in this book, showcases Michael Jackson's love of fashion and huge impact on popular culture. Many of the items featured in this book will be included in the auction with a portion of the proceeds benefiting Nathan Adelson Hospice in Las Vegas and Guide Dogs of America in Los Angeles.
A major sale highlight includes a 30th Anniversary of Madison Square Garden show signed prototype helmet which was wired to illuminate a row of battery powered lights below the visor. The helmet is signed in black marker to designer Michael Bush and states "To Bush Love Michael Jackson."
Another highlight is Jackson's Scream video costume which includes a pair of black spandex pants with matching long sleeve shirt and mesh tuck strap. Each costume piece is marked on the interior in gold marker "2/2" or "2/2 M.J.J," indicating that two costumes were created for Jackson's famous video shoot.
The auction house announced that Michael Jackson's Captain EO white spandex shirt featuring ribbed neck, zip closure and a rainbow motif is also included as well as the King of Pop's Awards Ceremony jacket which is a black wool jacket embellished with red armband, gold tone metal floral buttons, metallic embroidered crown patch at chest and buckled leather straps at right shoulder.
Jackson reportedly wore this jacket when he attended the 3rd annual Soul Train Awards in 1989 where he was honoured with the Sammy Davis, Jr Heritage Award, the Heritage Award for Career Achievement and awards for his single and video for Man in the Mirror.