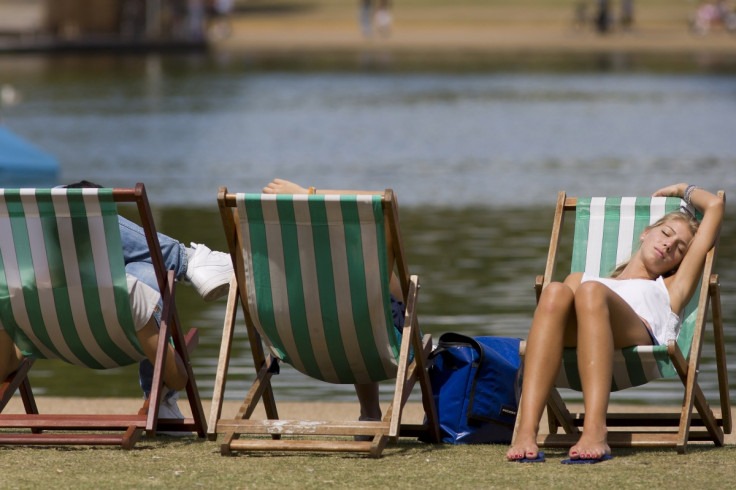 Forecasters have warned of exceptionally high UV rays in parts of the country, as sunshine and warmer temperatures hit the UK. On 14 July, the Met Office's Solar UV index recorded UV rays of level seven (high) across much of England and parts of Scotland, with levels of eight in Wales (very high).
The high UV levels are expected to return during the early afternoons for the next few days, particularly in parts of south east England. On 18 and 19 July, UV levels are expected to soar to "very high" across the south and the Met Office has urged people to take caution during these times.
A spokesperson for the Met Office told IBTimes UK: "Level 7 is quite typical for a very sunny day around the middle of summer as we are at the moment. The aim of the index is to warn people of increased risk and encourage them to change their behaviour in order to protect themselves against the risks of skin cancer and skin damage."
Experts have warned that high levels of UV rays could cause sunburn, skin cancer, as well as harm the eyes in the long term and short term. Long term exposure to UV rays in the eyes can increase the risk of cataract development, which is the leading cause of blindness in the world. However, this can be prevented by taking action against sun exposure in the short term.
The Met Office guidelines on UV ray protection states: "UV radiation from the sun or sunbeds can damage the eye's surface tissues as well as the cornea and lens. UV can burn the surface of the eye much like sunburn on skin. To protect your eyes from UV exposure, wear good quality UV protective sunglasses."
The UK is set for a summer heatwave in the days to come, with temperatures soaring to 28C on 19 July. The sunny conditions will be a relief to many across the country, who have had to suffer from thunderstorms and torrential downpours through much of June and July so far.