Eyewitness Gaza: Nowhere to Run, Nowhere to Hide as Bloody Israeli Barrage Intensifies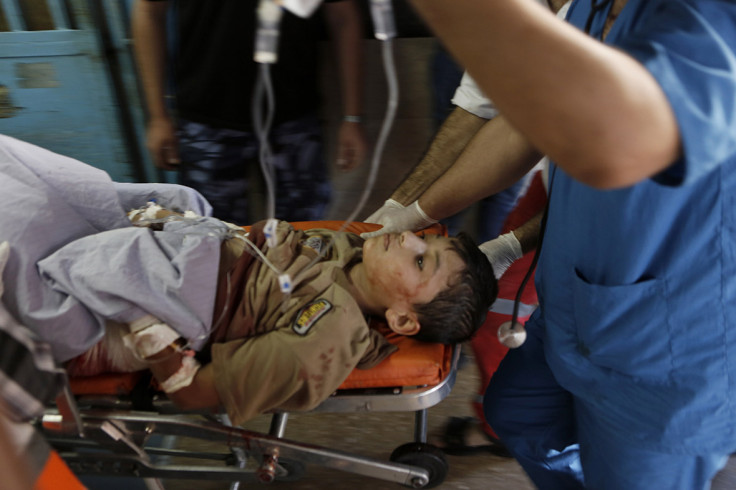 Two doctors hovered over Farah at Al Shifa Hospital, readjusting plastic chest tubes so that the canister hanging below her bed could continue to fill. She was bleeding internally.
Farah, 10, was hit in a missile attack near the Al Shati camp in northern Gaza, while she was buying peanuts and soda for the Eid holiday, celebrating the end of the Muslim holy month of Ramadan.
She yelled to her father, "baba," as the doctors adjusted the tubing. Farah was one of three children caught in a blast that killed 10 people. They were all recovering from surgery in this room. The other two, Shaher, 6, and Ahmed, 9, were recovering from shrapnel wounds that cut into their skulls.
The blast that injured Farah, Ahmed and Shaher set off a new wave of violence in Gaza, prompting a statement by Israeli Prime Minister Benjamin Netanyahu that the worst was yet to come in the military operation that Israel has been conducting against Hamas here.
The Gaza Ministry of Health said on Tuesday that 100 Palestinians had been killed in the fighting overnight, making it one of the bloodiest and most intense days of fighting between Hamas militants and the Israel Defense Forces (IDF) since the conflict began earlier this month. Although the fighting subsided in Gaza City after Monday night's bombardments, Palestinians here said they think even more intense fighting will come this week.
Doctors at al-Shifa began preparing more space for beds and increased the staff in the emergency room. Dozens of patients from the Kanal Odouan hospital in the north of the Gaza Strip are being transferred here because of the fighting there.
One doctor at al-Shifa said he moved his entire family into the hospital yesterday after they were asked to evacuate, saying they had nowhere else to go. His wife and one-year-old son live in a corner of a shared hospital room. They share a room with Tala, a one-year-old recovering from shrapnel wounds in the gut, and her mother and father.
But not everyone who has been forced to evacuate can find shelter in Gaza City.
Behind al-Shifa, about 100 people are living in makeshift tents made of hospital blankets and rope. And down the street at the UNRWA school run by the United Nations, children play outside, dodging puddles of fetid sewer water.
Hundreds of people are seeking shelter in classrooms there, which hold about 30 people. There is no running water or working plumbing, and the electricity is out in the entire complex.
Electricity is a problem for many in Gaza, especially small business owners, after blasts hit a power plant in the north. The owner of a bakery in Gaza City stood outside, pushing crowds of people back from the front entrance who were eager to get the last batches of bread.
Although Palestinians said they are doing what they can to prepare for more attacks overnight, they said there are few places left to hide.
The center of Gaza City is becoming increasingly congested as fighting in the north near Jabaliya and Beit Hanoun, and in the east, has forced thousands to evacuate. Gaza City, which was once thought of as a relatively safe area, is now considered dangerous. The latest blasts hit several targets including the home of a Hamas leader, and the seaport, which sits just next to a hotel hosting foreign journalists.
As the fighting continued and more Palestinians tried to find shelter, people said they have little hope that a cease-fire deal will be reached.
On Tuesday night, Hamas' armed wing, the Ezzedine al-Qassam Brigades, said that a truce with Israel must include a stop to Israeli "aggression" as well as the lifting of the Gaza blockade.
"We don't accept any condition of cease-fire," Mohammed Deif, the commander of the brigade, said in an audio address. "There is no cease-fire without the stop of the aggression and the end of the siege."
© Copyright IBTimes 2023. All rights reserved.