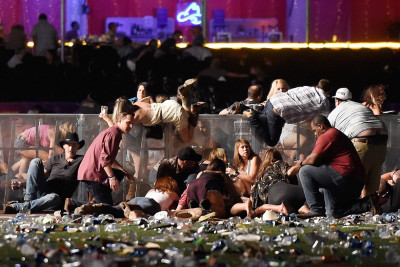 Getty Images photographer David Becker was on assignment at a country music festival in Las Vegas when he found himself in the middle of the deadliest mass shooting in modern US history.
In a statement released by Getty, Becker tells the story of how he went to file pictures of the Route 91 Harvest country music festival when he started hearing "loud popping sounds". After being told it was just fire crackers and then a speaker malfunction, Becker went to see for himself.
Seeing the fleeing crowd, Becker says he started taking pictures but it was not until he returned to his computer to upload them that he realised what he had photographed. "I could see people covered in blood and I thought, this is real." he says.
Becker says it's hard for him to comprehend what he witnessed but talks of the importance of capturing "impactful images" in hopes that they might stop something like this happening again.
Here in full is Becker's account of what he experienced the night 64-year-old Stephen Paddock opened fire from the 32nd floor of the Mandalay Bay hotel, killing 59 people and injuring 527 before he is thought to have turned the gun on himself.