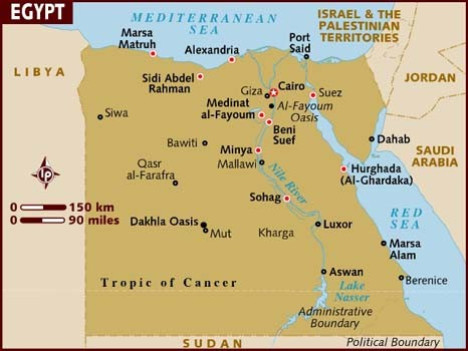 An Egyptian man has been lynched for allegedly raping and murdering a teenage girl in a Nile Delta village.
According to a security official, the unidentified man was beaten to death by angry residents of Quesna, in Menufiya province, before his body was dragged through the streets.
The attack is believed to have been triggered by claims that he was responsible for raping a 16-year-old girl before stabbing her to death.
It is the latest in a string of lynching cases across Egypt over recent months, as vigilante justice continues to escalate amid growing lawlessness.
Since the uprising ousting of former president Hosni Mubarak in 2011, the country has witnessed growing security problems.
Last month, an angry mob lynched the teenage son of a Muslim Brotherhood leader, accusing him of killing a man over Facebook comments that were critical of the Islamist movement.
in March, villagers in Sharqiya province beat up a man and then lynched him, accusing him of car theft days after residents of another town strung up two men accused of kidnapping a girl.