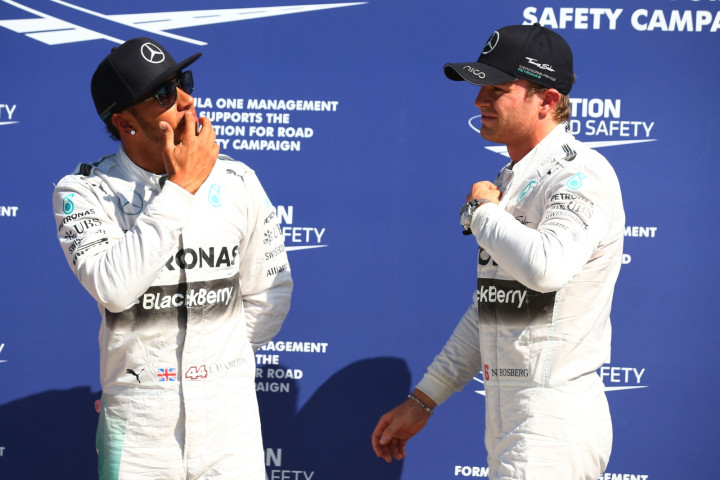 Nico Rosberg and Lewis Hamilton are like two enemies racing against each other, according to Mercedes executive director Toto Wolff.
The race for this year's championship – currently led by Rosberg by just 22 points – has been marked by the rapidly deteriorating relationship between the two Mercedes stars.
The enmity between the two came to a head at the Belgian Grand Prix, where the German collided with Hamilton, puncturing his British teammate's rear tyre in an incident Wolff later described as "unacceptable."
Rosberg later accepted responsibility for the crash, but it has done little to curb tension in the Mercedes camp and Wolff admits the atmosphere between the two has radically changed over the course of the season with just six races to go.
"It has changed from, let's say, an almost amicable relationship at the beginning of the season to a very intense moment, where it was almost like realising these two are enemies competing for the world title," Wolff told BBC Sport.
"It is also a learning process. These boys have been calibrated their whole life that their main priority is to win the drivers' championship in F1.
"And here they go – they are in the same car, competing against each other for that trophy, and one is going to win and one is going to fail.
"This is a new experience for them – a difficult experience maybe."
Following the incident in Belgium, Hamilton further fuelled the growing discontent between himself and his teammate when he revealed Rosberg had "basically said he did it on purpose."
A seven-time champion, Rosberg was subsequently booed by fans after taking the podium (and not for the first time in his career).
"He was shocked about what happened," Wolff continued. "He was shocked about his own error of judgement and the reaction of the fans on the podium.
"He realised he had made an error. Coming out with it publicly is not only a strength of character but also tough to do.
"But I can tell you one thing – in a couple of years he is going to look back at that incident and say: 'That made me stronger.'"