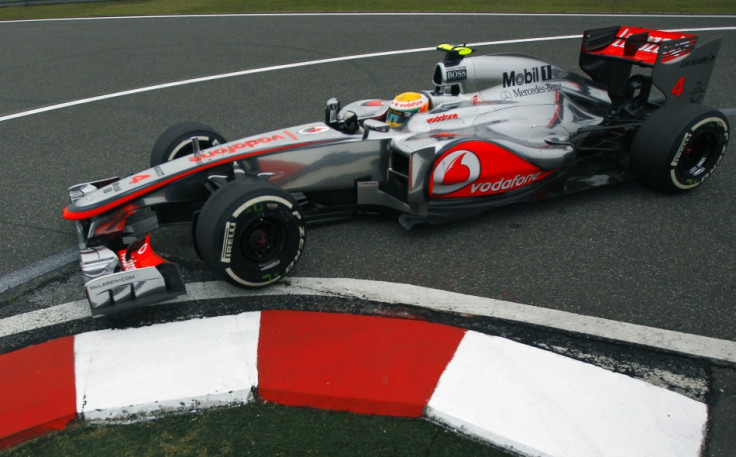 After a record-breaking sixth different race winner through the opening six races of the 2012 Formula 1 Drivers' World Championship, McLaren's Lewis Hamilton shows no inclination to break that trend, even if defending World Champion Sebastian Vettel and the suddenly revitalised Ferrari duo of Felipe Massa and Fernando Alonso would like to think different.
Hamilton, who has publicly expressed his disappointment at a series of tactical and pit stop errors from within the McLaren team that have cost him at least one race win and high point-scoring finishes in others, has set the fastest time in each of the first two Free Practice (FP) sessions for the weekend's Canadian Grand Prix. Based on this form, the reports of McLaren handing their driver a contract worth nearly £100mn do not seem too far-fetched.
However, the competition in Canada has not been all that far behind, with Vettel's Red Bull only 0.118s off the pace in FP 1 and the Ferraris of Alonso and Massa only 0.154s behind in FP 2. Nevertheless, the British driver did enough in both sessions to remain on top and is happy with the way the car is performing.
"I'm very happy with my start to the weekend: happy that the rain held off for both sessions today and happy that we got through a lot of good set-up changes. This is a great track to drive - it's a place that requires 100 percent commitment and where the driver can really make a difference," Hamilton explained, talking to Formula1.com.
Hamilton's team mate, Jenson Button, was less than happy with his practice results though. The British driver could only complete 12 laps in FP 1 before an oil leak forced him to retire. Worse still, a gearbox problem in the second session limited him to only 20 minutes on track. He finished with times of 1:16.347 in FP 1 and 1:15.812. However, given the pace Hamilton seems to have, if the team can give Button a problem-free car, there should be no reason why the former Mercedes driver cannot challenge for his second race win of the season.
"Well, we certainly had a few issues today. We had an oil leak on my car in this morning's session, so the mechanics had to take the gearbox off then put it back on. And then we found another problem, so they had to take it off again then put it back on again! But I'm not too worried - the car has been working well and Lewis has been quick all day, so there's a lot of good information for us to look at for tomorrow," Button explained.
Meanwhile, over in the Ferrari camp, the upswing in Brazilian Felipe Massa's form since the last race at Monte Carlo seems to have rubbed off on everyone. Massa had previously received an indirect warning as to his future with the Italian outfit after a miserable start to the season that saw him pick up only two points to team mate Alonso's 61. Furthermore, the off-colour start to the season even had Ferrari chief executive Luca di Montezemolo write an open letter to the team before Monte Carlo; it seems to have worked.
"I am rather pleased with the way things went this Montreal Friday. This morning, we concentrated mainly on evaluating some new updates, while in the afternoon, we worked principally on a comparison of the two types of tyre, looking for performance over a single lap and also to check the behaviour of the car with a lot of fuel on board," Alonso explained, while a note on Ferrari's official Web site added the team had been testing exhaust systems - different ones for Alonso and Massa - while also evaluating tyre choices. The Spaniard's best time was in the second session - a 1:15.313.
"It was a very positive Friday for us. We managed to do a lot of laps and, above all, test everything we had on our programme. Fortunately, the rain, and boy did it rain, arrived just after the second session had ended, so we managed to do everything properly. I think we can be happy with the fact that the updates we have brought here worked, even if it's hard to give an instant assessment of how much of an improvement they have produced," Massa said to Ferrari's Web site, adding the team intended to retain the new configuration for the rest of the weekend. Massa's best time of the weekend so far was a 1:15.410, 0.103s off Alonso in second and 0.154s off Hamilton.
Finally, both Red Bull, the defending Constructors' champions and Mercedes reported satisfactory outcomes from FP 1 and FP 2. Vettel and Webber finished with best times of 1:15.682 (second, FP 1) and 1:15.897 (fifth, FP 2), while Nico Rosberg and Michael Schumacher finished with 1:15.782 (third, FP 1) and 1:15.697 (seventh, FP 2) respectively.
Click here for full list of times from Free Practice 1
Click here for full list of times from Free Practice 2