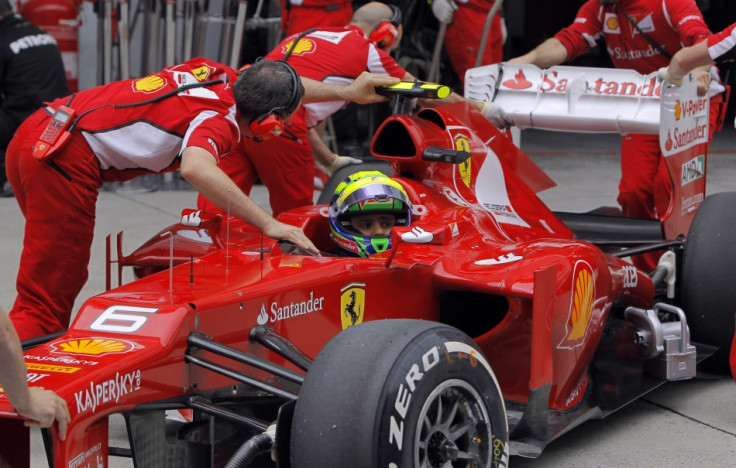 The 2012 Formula 1 World Championship will arrive at the scenic Hockenheimring motorsports track, near the town of Hockenheim in Baden-Württemberg, for Round 10 of the season, during the weekend of 20 July to 22 July. The German Grand Prix will offer a number of the German drivers and manufacturers on the grid a chance to impress their home fans and the likes of Mercedes and their drivers Michael Schumacher and Nico Rosberg will be particularly fired up for the weekend's race.
After a whirlwind start to the season, with a record seven different drivers winning the first seven races of the year, it was left to Ferrari's Fernando Alonso to break that streak. The Spaniard did so by recording his second win of the year at Valencia (he also won the Malaysian Grand Prix earlier this year). A significant upturn in the Italian marquee's performances since the Monaco Grand Prix some time ago (a run of three podium finishes in the last four races, the Monte Carlo race included) has meant that Alonso now leads the race for the 2012 drivers' championship from the Red Bull duo of Mark Webber and Sebastian Vettel by 13 and 29 points, respectively. It could well have been a much larger lead, though, had tyre wear been even marginally less of an issue in the last race at Silverstone.
Alonso was leading the race with less than five laps to go before the softer Pirelli compound (the option tyre) deteriorated badly enough to compromise grip and allow second placed Webber (on the harder Pirelli tyre) to sneak past for the win. Nevertheless, Alonso was justifiably pleased with his team's showing, saying as much in the post-race press conferences.
"At the end in the last stint Mark was much quicker than us, and he deserved the win, so I congratulate him and congratulate the Red Bull team. But I'm very proud of the Ferrari recovery in the last few weeks and now we are fighting for the victory in the last three or four Grands Prix. So we're heading in the right direction," the former double World Champion said.
Championship Standings
Going into the weekend's German Grand Prix, check out the top drivers and constructors in the race for the 2012 titles...
Drivers (Top Five):

Fernando Alonso (Ferrari) 129
Mark Webber (Red Bull) 116
Sebastian Vettel (Red Bull) 100
Lewis Hamilton (McLaren-Mercedes) 92
Kimi Raikkonen (Lotus-Renault) 83
Click here for a full list.
Constructors (Top Five):

Red Bull Racing-Renault - 216
Ferrari - 152
Lotus-Renault - 144
McLaren-Mercedes - 142
Mercedes - 98
Click here for a full list.
German Grand Prix
The 2012 Formula 1 German Grand Prix will be held around the 4.754km long Hockenheimring circuit, which is a re-structured version of the high-speed 6.823km circuit used up until 2001. The race was won last year by Lewis Hamilton in his McLaren; the British driver completed the 60 laps of the race 3.9s ahead of Alonso's Ferrari and the Red Bull duo of Webber (third) and Vettel (fourth). Pole position for the race was held by Webber, with Hamilton, Vettel and Alonso lining up behind him. This year several of the grid's German drivers and manufacturers are looking forward to racing at home and have all spoken of the enormous support they expect to receive.
"I'm looking forward to the German GP, hopefully there will be at least as many people supporting the German drivers as there were in Silverstone last weekend. Hockenheim is only half an hour away from my home town, so I have a lot of friends and family there and it's always a special crowd to race in front of," defending world champion Vettel was quoted as saying, in a Formula1.com report. Mercedes' veteran racer Michael Schumacher was equally enthusiastic about racing at home.
"People often ask me whether there is any such thing as a home advantage in such an international sport as ours and my answer is: perhaps not a home advantage, but certainly a home-race feeling. As a German driver, you naturally have a different sense of excitement when you arrive at the German Grand Prix and know that all the spectators in the grandstands are supporting you. That makes you proud, and always boosts your motivation even higher," the former Ferrari man and seven time world champion explained.
Incidentally, the weekend will be a special one for the Mercedes brand name and their association with the sport. The German automotive manufacturers have twin links with Formula 1 this season - they supply engines to the McLaren team as well as run their own entry, the Mercedes team. The car giants will celebrate 111 years of their involvement in motorsport. Curiously, Norbert Haug, vice-president of Mercedes-Benz' motorsport division, pointed out, the number "111" has been a recurring theme for them this year - Nico Rosberg's win at the Chinese Grand Prix earlier in the season was in his 111th race and was also the 111th win for Mercedes.
Technical Updates
The pace of development in Formula 1 is so rapid and incessant that almost every team on the grid brings new parts to each race, in an ever-evolving bid to stay fractions of a second ahead of their rivals. The German Grand Prix will prove no different.
Among the teams expecting aerodynamic and technical changes to their cars are the Lotus-Renault outfit. A report by ESPN F1 suggests "interesting new updates" are in line for both cars at Hockenheim. The upgrades will be backed by strong performances from both drivers - Raikkonen and Romain Grosjean - in recent races. Their fifth and sixth place finishes at Silverstone now means the team is ahead of McLaren in the constructors' championship, albeit by two points.
I'm quite excited about it," the team's technical director, James Allison, was quoted as saying, "The season seems to be getting stronger for us race-by-race. We should see pretty warm weather conditions in Germany, and nothing about that track should do anything other than fill us with confidence, so I'm feeling positive in that regard. I'm excited too because we've got some interesting new updates for Germany and we're looking forward to see how they work out." Raikkonen was also positive about the weekend, stressing on improved understanding of the Pirelli tyres as being the key.
Meanwhile, Sauber's Mexican youngster, Sergio Perez, has been quoted as saying the updates his team took to Silverstone would be as new now as they actually were a couple of weeks ago, given the chaotic weather conditions last time around meant they could not use them fully.
"We are not totally sure how the updates we took to Silverstone work, as we haven't really been able to confirm these in practice in dry conditions. Maybe we need to do some more fine-tuning on these, so it will be interesting to see how this happens in Hockenheim. I think our car performs well on all the circuits - high speed or slow speed ones - so I am not worried about our performance there. We shall just focus on trying to get our best result there," the Mexican driver said.
The pressure this weekend will be particularly intense on McLaren's Jenson Button. The former world champion has had a horrible run of results in recent races and has scored just five points in the last two races. The fact his team mate, Hamilton, has not done any better (he scored four) does not mask the other that the latter has won once this season (at Canada) and does sit 42 points clear in the drivers' championship. In truth, though, this has been a horrible year for everyone at McLaren and they have had to take repeated criticism from both their drivers and people outside the team. Button has vowed to fight back though and has prayed for a "problem-free" weekend at Germany to show how competitive he and his team can be.
"Valencia and Silverstone were certainly difficult races for us, but I don't think they were truly representative of our pace. This year, you really need a problem-free build-up to the race if you're going to maximise the car's potential - and that's exactly what we'll be hoping for in Germany next weekend," the 2009 world champions said, adding that it was important for strong results before the mid-season break at the end of the month.
Driver Contracts
The biggest contract-related news in recent days is confirmation that Red Bull driver Mark Webber has re-signed with the world champions for another year. The Australian had earlier been linked with a move to Italians Ferrari, ahead of next season, but has dismissed that speculation by extending his deal, which was to expire at the end of this season. Incidentally, both Red Bull drivers have been linked with Ferrari in recent weeks; Vettel's name was brought up after comments by Stefano Domenicali, Ferrari's team principal, came to light.
"I've been with Red Bull Racing since 2007 and have achieved nine grand prix wins during that time. I'm high on confidence at the moment and firing on all cylinders. I know the team well and I'm very comfortable here. We have grown together over the years and it feels like absolutely the right thing to stay with Red Bull for another season," the 35 year old was quoted as saying.
In other contract related news, McLaren's Hamilton (whose deal with the Woking-based outfit expires at the end of the season as well) is considering a shock move to Lotus-Renault, according to the Daily Mail. The team, which presently drives former Ferrari man Kimi Raikkonen and Romain Grosjean, will, however, have trouble matching Hamilton's £15mn contract with the British team. IBTimes UK earlier reported McLaren would offer Hamilton a new £100mn five year deal but it now seems an offer of that magnitude may not materialise.
London Grand Prix: A Reality?
IBTimes UK earlier reported on Bernie Ecclestone's plans for a 5.1km Formula 1 race around the streets of London, a project that received enthusiastic support from both Hamilton and Button. A report in the Guardian now suggests the proposal, despite being dismissed as impossible, may actually happen. The report quoted the 81 year old businessman as saying the project was "100% completely no joke".
Stay tuned to IBTimes UK's coverage of the 2012 Formula 1 German Grand Prix, as we continue to bring you race previews, driver quotes and tactical analyses, ahead of the weekend's race!