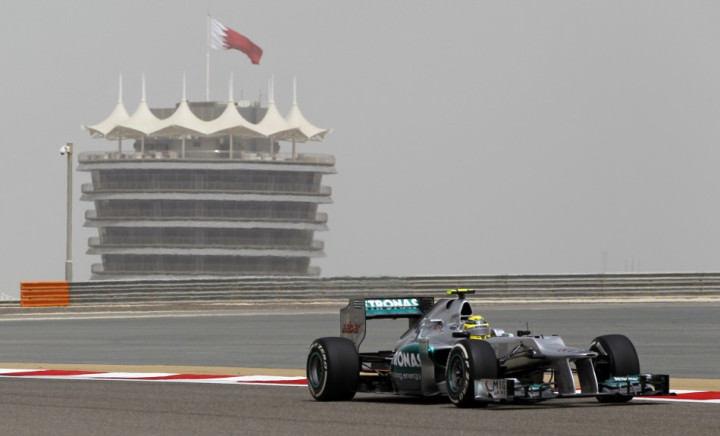 Nico Rosberg was fastest in after practice at the Bahrain grand prix, setting a time of 1m32.816, seven tenths quicker than the fastest of the morning session, set by Lewis Hamilton.
Rosberg's Mercedes AMG team-mate Michael Schumacher finished the 90-minute session in fifth, behind the two Red Bulls of Mark Webber and Sebastian Vettel in second and third, and Lewis Hamilton in fourth.
Following Rosberg's dominant performance in Malaysia last week - earning his and the team's first win - the team is looking strong again for the fourth round of the 2012 season.
Amid controversy and riots off the track forcing two Force India mechanics to fly back to the UK after getting caught up in violence - both Friday practice sessions went off without a hitch.
Force India took part in the morning session but chose not to run in the afternoon, as they wanted to leave the track and return to their hotel in daylight, meaning just 22 cars took part in the second stint.
Mark Webber posted a 1m33.262, some four tenths behind Rosberg, with his team-mate Vettel a further three tenths behind the Australian.
While outright performance cannot be easily judged in friday practice sessions, it remains clear that the Mercedes AMG is a credible rival to the McLaren and Red Bull.
Lewis Hamilton was fastest in morning practice, but could only manage fourth in the afternoon, just under a second behind Rosberg and half a second ahead of team-mate Jenson Button, who finished sixth, two tenths ahead of Kamui kobayashi in the Ferrari-engined Sauber.
Yet again the works Ferrari team was beaten by engine customer team Sauber, with Fernando Alonso finishing the afternoon with a 1m34.449, less than half a tenth behind Kobayashi.
Ferrari team-mate Felipe Massa posted the twelfth-fastest time, a 1m34.941, two tenths ahead of Kimi Raikkonen in thirteenth.
The third and final practice session will take place between 9-10am BST on Saturday, with qualifying from 12-1 and the race starts at 1pm BST on Sunday.
Unofficial results for second practice are below:
Pos  Driver               Team                  Time               Laps
 1. Nico Rosberg          Mercedes              1m32.816s            35
 2. Mark Webber           Red Bull-Renault     1m33.262s  + 0.446   26
 3. Sebastian Vettel      Red Bull-Renault      1m33.525s  + 0.709   28
 4. Lewis Hamilton        McLaren-Mercedes      1m33.747s  + 0.931   26
 5. Michael Schumacher    Mercedes              1m33.862s  + 1.046   31
 6. Jenson Button         McLaren-Mercedes      1m34.246s  + 1.430   28
 7. Kamui Kobayashi       Sauber-Ferrari        1m34.411s  + 1.595   34
 8. Fernando Alonso       Ferrari               1m34.449s  + 1.633   31
 9. Romain Grosjean       Lotus-Renault         1m34.615s  + 1.799   32
10. Sergio Perez          Sauber-Ferrari        1m34.893s  + 2.077   34
11. Daniel Ricciardo      Toro Rosso-Ferrari    1m34.895s  + 2.079   29
12. Felipe Massa          Ferrari               1m34.941s  + 2.125   29
13. Kimi Raikkonen        Lotus-Renault         1m35.183s  + 2.367   33
14. Jean-Eric Vergne      Toro Rosso-Ferrari    1m35.229s  + 2.413   26
15. Pastor Maldonado      Williams-Renault      1m35.459s  + 2.643   38
16. Vitaly Petrov         Caterham-Renault      1m35.913s  + 3.097   32
17. Heikki Kovalainen     Caterham-Renault      1m35.968s  + 3.152   35
18. Bruno Senna           Williams-Renault      1m36.169s  + 3.353   30
19. Timo Glock            Marussia-Cosworth     1m36.587s  + 3.771   32
20. Charles Pic           Marussia-Cosworth     1m37.803s  + 4.987   33
21. Pedro de la Rosa      HRT-Cosworth          1m37.812s  + 4.996   28
22. Narain Karthikeyan    HRT-Cosworth          1m39.649s  + 6.833   27