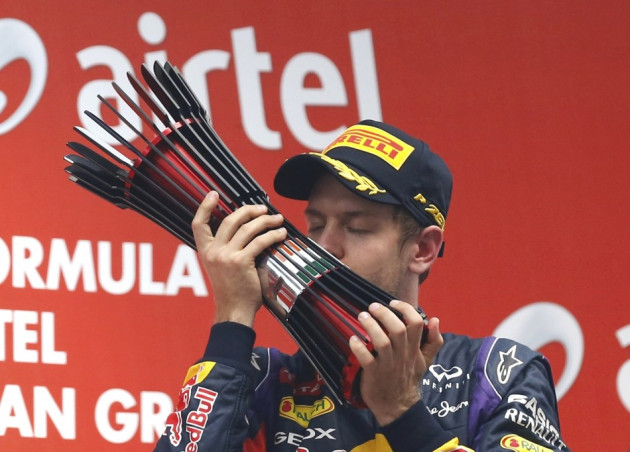 Red Bull driver Sebastian Vettel has lifted his fourth driver's world title in a row, winning his 10th race of the season at the Indian Grand Prix at the Buddh International Circuit, near New Delhi.
With this the 26-year-old German has won his sixth consecutive race. Vettel, whose winning streak started at the Belgium Grand Prix in late August, was the fastest during practice and qualifying session. He began Sunday's race in pole position.
Vettel needed 10 points from the Indian Grand Prix, irrespective of results elsewhere to win the championship title.
He has won the title with three races remaining in the season. He now sits on top of the drivers' championship table with 322 points, while Ferrari's Fernando Alonso is 115 points behind the German.
"I was surprised I was so close after the first stop already. First of all I would to thank the crowd for an unbelievable reception, I am speechless and I was empty when I crossed the line. I spent ages thinking what to say, there is so much you want to say at a time like that," Vettel said.
Red Bull team principal Christian Horner has hailed Vettel's performance.
"It is an amazing day, words fail me for what Seb has done for the last four years. It is gutting on the day we win the constructor's championship that Mark Webber didn't finish and make it one-two," Horner said after the race.
"There were huge concerns [about the electrics] so we were switching things off, first the Kers and we even stopped him using his drinking bottle because we didn't know what the problem was but it didn't stop him."