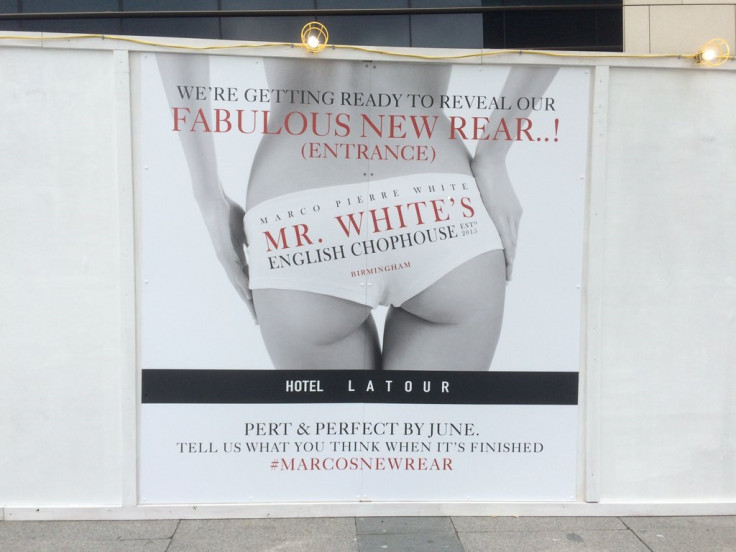 Posters advertising a new rear entrance to a Marco Pierre White restaurant in Birmingham have been taken down after the advertising campaign was widely criticised on social media as being "highly sexist and offensive".
The ads, which use a woman's bottom to promote Mr White's English Chophouse in the Hotel La Tour, reads: "We're getting ready to reveal our fabulous new rear [...] Pert & perfect by June."
The new entrance will allow guests enter the restaurant directly without having to walk through the reception of the hotel.
Social media users have criticised Hotel La Tour and Marco Pierre White's company MPW Group for trying to drum up a reaction by showcasing deliberately sexist advertising alongside the hashtag #MarcosNewRear, which is promoted on the poster.
Some Twitter users have stated the hotel also used images of male models in some of the posters, but they are not used as widely as the adverts featuring female bodies.
One commenter Danielle Grieve tweeted a picture of the poster campaign: "#EverydaySexism This being advertised on my way to work this morning! Remind me never to eat at Marco Pierre White's."
Everyday Sexism, an online platform set up by Laura Bates to highlight instances of misogyny, retweeted Grieve's post. The posters appear to have been taken down shortly afterwards.
Bates told IBTimes UK: "This is a clear example of everyday sexism- using pieces of women's bodies to advertise completely unrelated products is outdated and unnecessary and contributes to the perception of women as objects instead of human beings."
Gem Commane, a lecturer in media theory at Birmingham City University, tweeted: "Do you really feel this is appropriate? Highly sexist and offensive advertising. Should not be tolerated."
Dr Annette Naudin, an academic from the University of Warwick, commented: "I guess we won't be using @Hotel_LaTour for any guests @BCUBusiness @bcmcr_bcu #everydaysexism"
Others commented the adverts were outdated, with one user tweeting the posters were "cras and unnecessary" and "a bit #manaboutthehouse 70s sitcom."
The adverts have sparked fury among local food bloggers too. Chloe Gorman posted: "I have to say @Hotel_LaTour your ad for Marco Pierre White Chophouse is in extremely poor taste."
IBTimes UK has reached out to the representatives of Marco Pierre White but they were unavailable for comment at the time of publication.