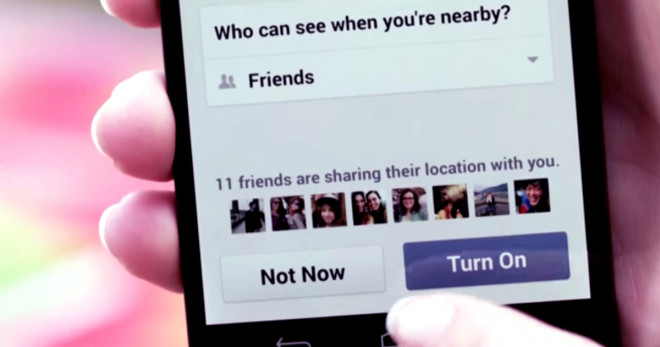 Facebook has introduced Nearby Friends where users can choose whether they would like to pinpoint their location to mates in a move that could give the social network a lot more data on users that could then be used for targeted ads.
Previously, the social network automatically notified users about friends who were close by. The new opt-in only version is designed to allay privacy concerns.
While some in the industry are calling the new feature "creepy", Nearby Friends potentially gives Facebook a chance to better monetise its mobile app, an area where the company has so far failed to profit.
Location-based advertising, whereby consumers are geo-located to receive messages about offers and discounts directly to their smartphones as they walk down a high street, could be the answer.
According to analyst firm IDC, location-based advertising makes up 40% of all mobile advertising in the US and 33% in the UK. By 2018, it is expected to account for 50% of all advertising in the US, with the UK not far behind.
"The challenge of location-based advertising is that it has to be very targeted. Facebook is a general social platform so different age groups use it in different ways. Twitter is the same," Alys Woodward, IDC's research director for European big data and social business tells IBTimes UK.
"In the past, Facebook have pushed the boundaries of privacy and then turn around and say, 'Oh, you don't like it?', and then roll [it] back. Since Whatsapp will never give them users' data, Facebook is now getting users to opt in.
"Despite their vast revenue, they do have to evolve to survive [as] Facebook sponsored ads haven't been successful."
The idea behind Nearby Friends is that if a user travels to an unfamiliar place, they might want to find out if there are friends around that they could meet up, for example, at a music festival.
"It's not just about tracking people. Facebook can take the data to advertisers and say, 'At a festival, why don't you advertise on our app?'" says Woodward.
Mobile operators who, like Facebook, are sitting on a rich database of user data from their mobile subscribers, are starting to use location-based advertising too.
Ginny Arnold, head of communications for Weve, the m-commerce platform joint-venture formed by Vodafone, EE and Telefonica O2 tells IBTimes UK: "Location and the ability to talk to a consumer directly on their device based on a specific area at scale is still a relatively new concept. About half of all the campaigns that were delivered by our service in 2013 had a location element.
"The most important thing about location is one of the fundamentals of marketing - understanding your audience and ensuring that the content you offer them is relevant and useful."
And it's not just about promoting retailers – location-based messages can be used for public service announcements as consumers always have their phones with them.
Intersec offers Linux-based geo-location technology called Igloo that has the ability to disregard "irrelevant" targets ie, people who just happen to be walking along a road or people who live there, instead targeting returning visitors at a specific time of day.
Igloo is being used by Weve and many other mobile operators in 32 countries, such as SFR in France.
"SFR launched a campaign for blood donations, targeted to reach opt-in [mobile subscribers] who were located less than 200 metres from a blood donation centre," Intersec's COO Gary Buchwald tells IBTimes UK.
"The results were astonishing: by 2pm, the centres couldn't take more blood as the reserves were full and 30% of the donors were first-time donors."
Privacy concerns
The worry is that location-based advertising could be intrusive but this is not the case.
"Location-based advertising is only sent to consumers who explicitly agreed to be targeted with SMS campaigns & geo-located. Operators are very cautious with the commercial pressure and only a limited number of SMS are sent to subscribers over a set period of time," says Buchwald.
"If you have your top five retailers and they send you the right messages in the right time, it's valuable. It's not like a spam email as there's a time limit as to how often customers will be contacted," says Woodward.
"If you share this information, it will learn what you like and you will get useful info about promotions and time-specific promotions just for you. Companies are using your data to get you to come into their shops to buy items more often."