Low-paid migrant cleaners staged a noisy protest outside the towering offices of 'golden circle' law firm Clifford Chance in Canary Wharf.
Around 20 union members waved banners and used mega-phones to demand better conditions for cleaners at the law giant, whose revenues hit £1.2bn last year.
A crowd of suited office workers was drawn to the demonstration by the noise. One young man dressed in a smart suit was overheard repeating: "let me see the poor people!"
Cleaners of mainly Latin-American origin called on Clifford Chance to force sweeping reforms on facilities firm Mitie, which supplies cleaning staff for its offices.
Cleaners earn £8.05 an hour for cleaning the premises of Clifford Chance partners who earn no less than £2.2m a year each.
The Independent Workers of Great Britain (IWGB) accuse Mitie of clamping down on union activists trying to improve pay and conditions for the most lowly paid workers in the plush offices.
The union alleges a cleaner called Oscar was suspended from work by Mitie when his union activity was discovered. It is calling for the management of Mitie to be removed and replaced as a result.
General Secretary Chris Ford told IBTimes UK: "At the day of the day, Clifford Chance hired Mitie cleaning company and these anti-union activities are completely unacceptable, especially in a premises which claims to be human rights compliant.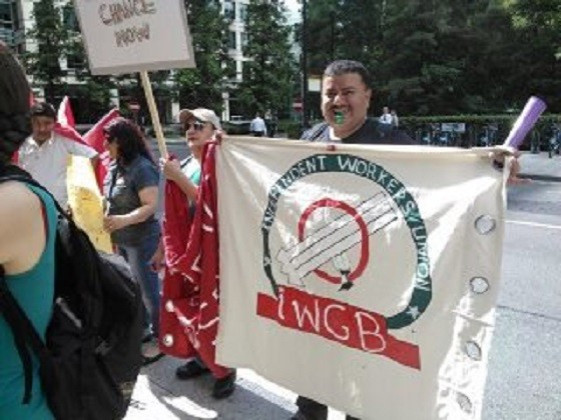 "We have a trail of problems with Mitie going back a long time of bullying, suspensions, discrimination and anti-union activity. We want Clifford Chance to take a firmer grip on this situation.
"We are starting to wonder if the principles of Clifford Chance extend any further than the next cheque from their clients."
A Clifford Chance spokesman said: "It is our policy as a firm to ensure that anyone who works within the building has a safe and appropriate working environment and our contract requires contractors to adhere to all applicable laws."
No-one from Mitie was available for comment at the time of publishing.