Hundreds of Yazidi sex slaves have been freed from the embattled city of Fallujah after the Islamic State (Isis) continue their withdrawal whilst under pressure from the Iraqi army. The 354 girls from the fringe minority sect had been kidnapped by the extremists 305 miles away in their spiritual home near Mount Sinjar, in northern Ira, during the summer of 2014.
Daesh (Isis) forced tens of thousands of members of the religious community to flee reported raping and abduction of women - who were then held as slaves - while men were murdered. The Yazidis are seen as heretics by IS as their belief system contains elements of Judaism, Christianity and Islam.
Thousands of women were forced into so-called 'sexual jihad,' being traded by the jihadists, with some being handed over as prizes of war or to settle debts. This fuelled an illicit economy, with some slaves being offered on social media sites such as Facebook.
Only last week, a UN report said that the massacre of the sect amounts to a genocide by IS with an estimated 3,500 Yazidi women and children still be held by the jihadists.
Now, as the Iraqi army - assisted by US-led western air strikes and other militias - slowly force extremists from the long-held IS city, some of the kidnapped Yazidis will be seeing their the families once again.
"The freed girls had been taken as sex slaves by Isis jihadis," Yazidi rights activist Kelesh Shingali told ARA News. "They are now under the protection of the government forces and they'll soon be transferred to the Kurdistan Region.
"The release of those girls was a great accomplishment, especially after they suffered brutal practices and sexual abuse by ISIS barbarians. The entire Yazidi community is happy for the freedom of those girls, and we are looking forward to the release of the rest of Yazidi women held by ISIS," he continued.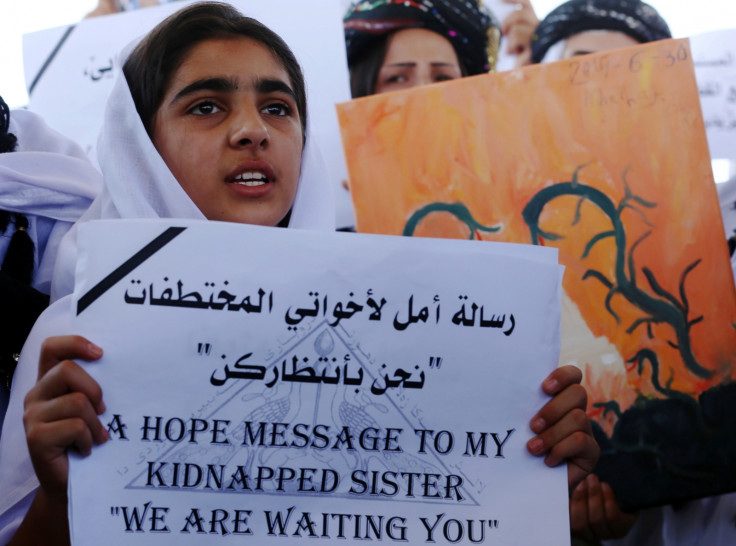 In total, around 400,000 people were believed to have been displaced to Duhok and Erbil in Iraqi Kurdistan. Earlier this month IS militants reportedly burned 19 Yazidi women to death in iron cages, for refusing to have sex with the jihadists in Mosul in northern Iraq.
Women's rights emergencies researcher at Human Rights Watch, Skye Wheeler, said: "The longer they are held by ISIS, the more horrific life becomes for Yezidi women, bought and sold, brutally raped, their children torn from them.
"Many of the abuses, including torture, sexual slavery, and arbitrary detention, would be war crimes if committed in the context of the armed conflict, or crimes against humanity if they were part of ISIS policy during a systematic or widespread attack on the civilian population."