A famed mountaineer dubbed "The Swiss Machine" has died after an accidental fall near Mount Everest, in Nepal.
The vastly-experienced Ueli Steck was killed after falling at the foot of Mount Nuptse, in the Everest region of the country, during preparations to climb the world's highest mountain.
Officials say that the 40-year-old is the first climber to die on the peak in the current climbing season as he tried to climb the smaller peak whilst acclimatising for an attempt on Everest.
Steck was planning to climb the mountain through the West Ridge route and traverse to Lhotse, the world's fourth highest peak – at 8,516 metres (27,940 feet) in May, it was reported.
Mingma Sherpa of the Seven Summits Treks company that organised Steck's expedition said according to Reuters: "His body has been retrieved and is being brought to Kathmandu".
And Kamal Prasad Parajuli, an official with Nepal's Department of Tourism, said Steck, "slipped and fell 1,000 meters" in the Western Cwm along the normal route to Everest.
Steck, dubbed the "Swiss Machine" had won multiple awards and was known for his rapid ascents had climbed Everest in 2012 without oxygen.
On Wednesday Steck wrote on his Facebook page: "Quick Day from Basecamp up to 7,000m and back. I love it its such a great place here. I still believe in active acclimatisation. This is way more effective then spending nights up in the altitude!"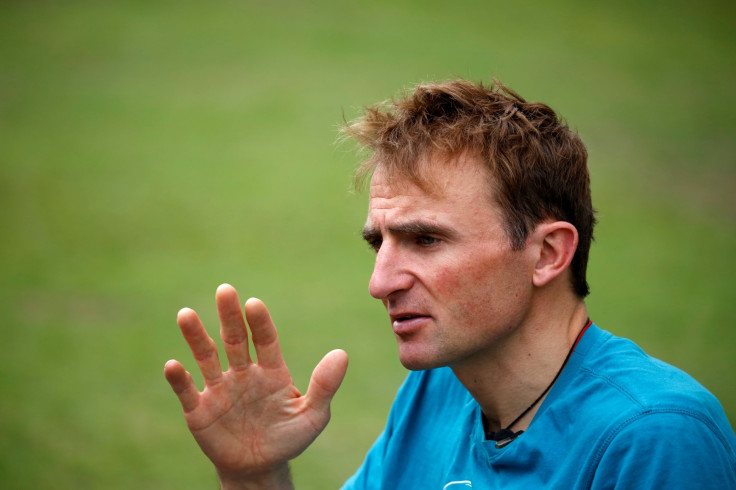 In 2015 Steck climbed all 82 Alpine peaks over 4,000m (13,100ft) in 62 days with the British Mountaineering Council described Steck as a "legendary mountaineer and all-round great guy".
In the same year, Steck climbed one of the world's most famous walls, the North Face of the Eiger, in two hours 47 minutes, setting a new solo world record.
In 2009 Steck became the fastest man to climb the 4,478m north face of the Matterhorn in the Alps in a time of 1 hour 56 minutes. Although this has since been beaten compatriot Daniel Arnold in 2015.
In 2013 Steck was involved in a brawl with sherpa guides which made international headlines. The sherpas accused Steck's group of climbing ahead of them, making it harder for them to fix ropes to the mountain face for other climbers.