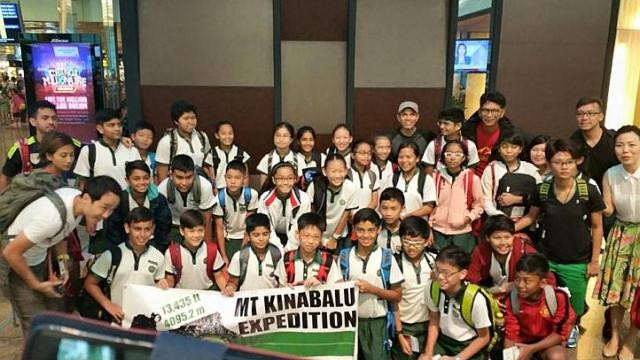 The family members of seven school children and two teachers killed in the earthquake at Mount Kinabalu marked the first anniversary of their deaths by completing their unfinished trek to the top of the mountain. The children from the Tanjong Katong Primary School in Singapore were on a school expedition, when they were killed in the earthquake on 5 June last year.
In a symbolic expedition, the group of 40 parents and relatives set off in the early hours from Laban Rata for Mount Kinabalu. The four-hour hike saw the group working through some of the steepest granite on the mountain, Channel News Asia reported.
They reached the top of the mountain to observe the sunrise on 6 June. The mountain peak stands nearly 5,000 metres above sea level.
A total of 18 people were killed in the magnitude 6.0 quake on 5 June last year. The other victims included mountain guides and trainers. The climb was made in memory of those killed.
Prior to embarking on the hike, family members lit candles and laid painted pebbles before observing a minute of silence for their loved ones. They stayed at the same place, where the children had stayed before embarking on the hike. The memorial ceremony was broadcast live via Facebook by Channel News Asia.
Dillen Jhata, 16, the brother of Sonia who was killed said: "I have never seen something so beautiful before. I am proud of myself even though my family they are not here, I am representing all of them including Sonia."
A former student of Tanjong Katong Primary School, Chantal Phuay said: "I can't wait to hurry down to tell my family that I have done it and my friends who can't be here because their parents won't allow them and are still scared." Chantal was one of the two survivors who returned a year later to complete the trek.
The national park, a famous attraction for hikers, was closed by Malaysian authorities for repairs following the earthquake. Partial trails were opened on 1 September last year while the summit trail was finally opened in December last year. It has so far attracted nearly 2,000 climbers. There is now a six-month wait list to scale Mount Kinabalu.
Channel News Asia said that the new trail, which is said to be more scenic and safer, is scheduled to open next month. John Quok, also accompanied his son Elliot, who survived the quake on the expedition.
"I think as parents, we have to let them grow up, and let them reach their best potential," the 45-year-old said.