Muhammad Ali's health is feared to have deteriorated after the boxing champion was admitted to hospital. The 74-year-old was taken to hospital on Thursday (6 June) with respiratory problems, his spokesman confirmed.
At the time he was described as being in "fair condition," however Sky News reports that two of his close family members informed the AP that his condition may be worse than originally thought as his respiratory difficulties appear to have been complicated by Parkinsons disease.
There are as yet, unconfirmed reports that Ali has been placed in intensive care and, according to Radar Online, his family is gathering at his bedside as they have been warned to prepare for the worst.
Four of the 74-year-old's nine children, including daughters Laila, Hana and Maryum, are believed to have arrived at the hospital in the Phoenix area. Speaking to the entertainment website on Friday (3 June) his third wife Veronica Porche confirmed that her two daughters with Ali, Laila and Hana, were on their way to see their father.
"My daughters have both flown there and I will be hearing from them when they arrive at the hospital. I can't comment more than that but I will say it is not so great, I'll just say that much," she explained. "He's a real hero. It's a sad situation."
In a statement from his daughter Laila, a representative told E!: "Laila's number one priority is her father's well-being. She truly appreciates the outpouring of love for her family, as she spends quality time with her dad."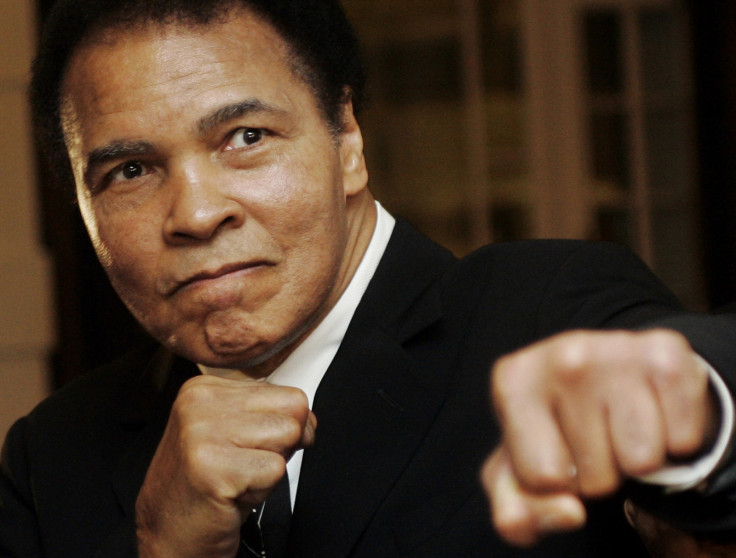 Ali's second wife, Khalilah, also confirmed that one of her daughters was also heading to the hospital to be at her father's bedside.
According to the Mirror a source said the former world heavyweight boxing champion is fighting back. "Like in the ring, Ali is a fighter on the ward," said a source. "Doctors are working to regulate his breathing put it is being hampered by his Parkinson's. His children are all extremely concerned and dropped everything to be with him. They fear the worst. Ali is everything to them and there are worried his problems are worse than first feared."
The three-time world champion was diagnosed with Parkinson's disease in 1984, just three years after quitting boxing. Ali was last in hospital in December 2014, and then again in January 2015, for a severe urinary tract infection that was initially diagnosed as pneumonia, ESPN reported.
His last official public appearance was in October, when he appeared at the Sports Illustrated Tribute to Muhammad Ali at The Muhammad Ali Centre in his hometown of Louisville, Kentucky. He was last seen in April attending one of his celebrity fight night dinners in Phoenix, Arizona in aid of the Muhammad Ali Parkinson Centre. Ali looked frail as he posed for a photograph with singer Carrie Underwood.
Fans of the sporting great have been taking to social media to post their well-wishes and prayers for the iconic Muhammad Ali.