Fans attack Aubrey O'Day for spitting in Stephen Bear's mouth on Celebrity Big Brother
Aubrey O'Day was given a formal warning for spitting in Stephen Bear's food.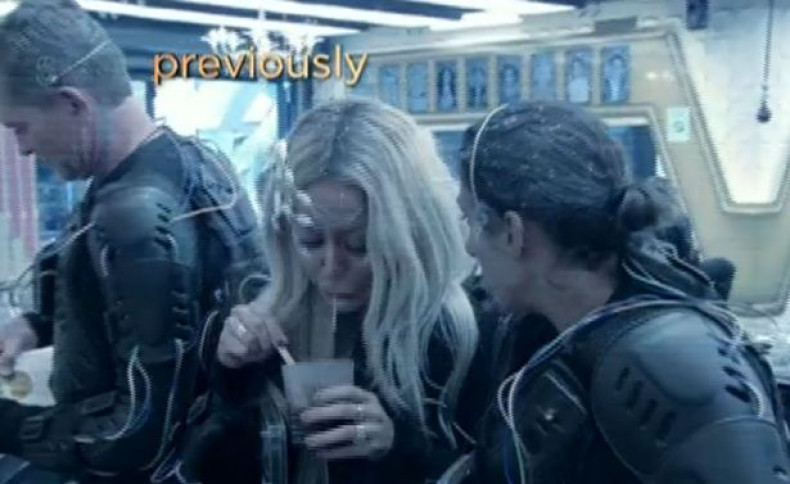 More outrage hit the Celebrity Big Brother house as Stephen Bear asked Aubrey O'Day to spit in his mouth on Friday night's episode (5 August). Viewers reacted with disgust on Twitter. One fan wrote: "Aubrey hates Bear. Aubrey spits in his food. Aubrey suddenly likes Bear. Aubrey suddenly spits in his mouth. K. #CBB".
Another fan wrote: "Why did Bear and Aubrey just get up to that? That was nasty".
A fan tweeted: "Why can't Aubrey just keep her saliva in her mouth…"
Bear's request came after the former Danity Kane star maliciously spat in his food and drink during their Humans vs Artificials shopping task earlier this week. O'Day, who received a formal warning for bad behaviour, sparked 74 complaints to Ofcom from viewers of the Channel 5 show. Big Brother told Aubrey her behaviour was totally unacceptable and it would not be tolerated in the house.
During the task, after verbally sparring with the Ex on the Beach star, the American singer threatened to get her boyfriend Pauly D to kick Bear's "a**" for making demands of her. However, little does the music star know that her former Jersey Shore boyfriend appears to have ended their almost 10 months' relationship over the weekend, reports TMZ.
On Monday (1 August), the celebrity site revealed that the DJ had erased all photos of the pair together from his Instagram page and will not reveal the reasons until his spoken to the American singer.
In the first live eviction on Friday night, Grant Bovey was given the heave-ho. Speaking to Emma Willis following his exit, the ex-husband of Anthea Turner said: "I don't know where it all went terribly wrong. I have mixed emotions about leaving but I've always made it clear when I went in that I wanted to be myself and I stayed true to that.
"However, I desperately didn't want to be the first out."
The real shock of the evening was the celebrity housemates ganging up on Bear, voting to give him an "eternal nomination" which means he'll face eviction each and every week from now until the end of the show.
He reacted with characteristic vitriol. "I was waiting for it. I got the vibe," he said angrily. "Everyone gets the vibe. I'm excited man. You think I'm bad now I can get a whole of a lot worse."
When he knew that he'd face the nomination he climbed up on the zebra and struck a pose worthy of the most arch of drama queens.