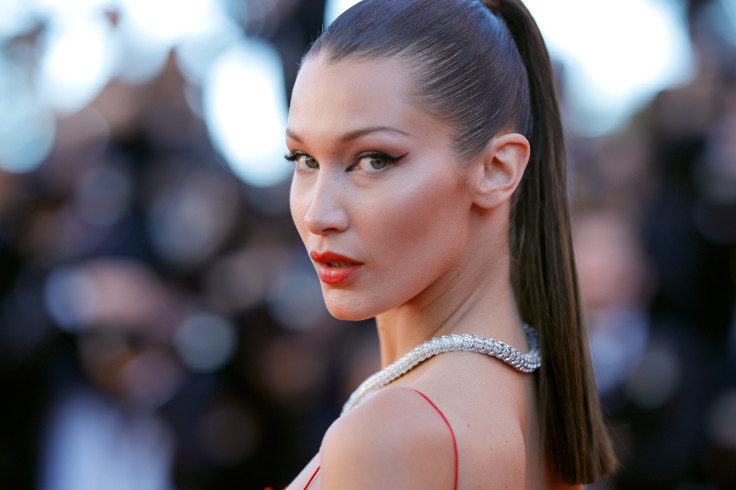 Bella Hadid isn't shy of showing a bit too much of skin while modelling, but her recent pictures for Alexander Wang's Fall 2017 are drawing flak on the internet. While most of the time she wowed her fans with her stunning look, this time her racy images have been panned by many internet users.
In one of the photos, the model ditches her underwear and wears a black satin slip dress, matching stockings and high heels as she sits with her legs spread. She manages to cover her modesty with a Ryan dustbag.
The photo was shared on Wang's official Instagram page and captioned: "@bellahadid wears a satin slip dress with chainmail trim and Lyra thigh high boot with the Ryan dustbag in the Fall 2017 campaign."
Photographed by Juergen Teller, the picture received scathing comments from the 20-year-old model's followers. "This looks trashy," and "this is vulgar," were some of the comments. "How cheap and tasteless can you get. This is porn not fashion," one user commented on the image-sharing website. "Well guys sex has been selling for years," added another.
In another controversial image for the designer label's ad campaign, Hadid poses topless along with a few other models wearing nothing but skintight knickers. Many thought the models, including the Victoria's Secret model, look skinny. "Do they even eat?," one intrigued fan asked.
"There is nothing interesting about this photo, it's just sad and exploitative," added another. "Honestly they look disgusting," a third one commented.
However, Hadid believes women should be comfortable in their own body, no matter what profession they are into. In an interview with Glamour magazine in August, Hadid said: "My mom is European. My whole family is European. We were always very comfortable with our bodies. It's fine if you don't want to show your body like that. But if a woman wants to show her body, I'm all for it. Everybody loves a little nip."