Fans wonder why Tiffany Trump spent Thanksgiving with mum Marla and not Donald Trump: 'Where's your dad?'
The 24-year-old travelled to New York City to spend time with her mother Marla Maples.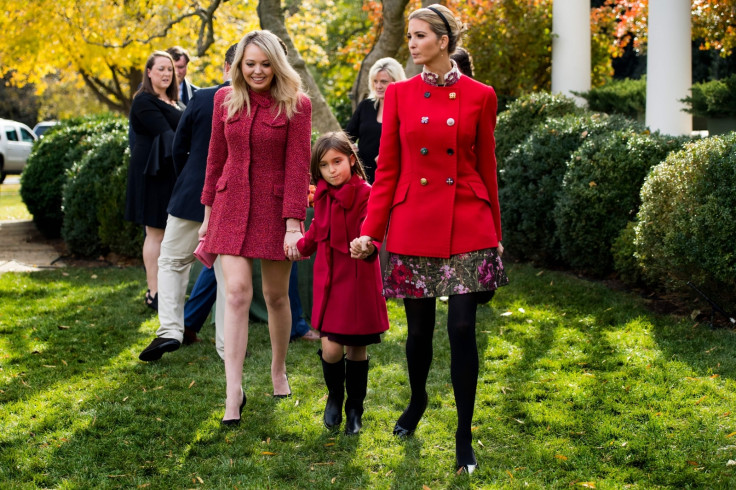 After causing an internet meltdown with her super-short coat dress at the National Thanksgiving Turkey Presentation, Tiffany Trump is now winning hearts on Instagram for the sweet moments she spent with her mother, Marla Maples, on Thanksgiving.
Although her father President Donald Trump, celebrated the special day with first lady Melania Trump and her son Barron Trump at his lavish Florida residence in Mar-a-Lago, the 24-year-old travelled to New York City to spend time with her mother.
Tiffany shared a series of images from the special evening with her mother and simply captioned it "Happy Thanksgiving."
Contrary to her bombshell red mini coat dress during the turkey pardoning ceremony, this time she chose to wear a brown coat and black leggings. She accessorised her look with oversized blue sunglasses, black boots, and matching handbag.
Many fans were curious about Potus's absence in the celebration and one of them asked: "Where is your dad? What are you doing alone? Where is your lovely family."
Tiffany, who prefers to remain away from the media spotlight, spent the festive occasion with a friend at her mum's place. Maples also gushed about the "special mum and daughter" weekend on Instagram as she shared a selfie together with a funny drumsticks ear filter.
"Me and my little drumstick. After dinner, pre-dishes fun! Hope you found lots of reasons to smile today. Grateful for time with Tiff sharing in a special #momsanddaughters weekend," the former wife of Donald Trump wrote.
The 54-year-old shared another throwback post on the image sharing website featuring her daughter and her parents Stan and Ann. "Thanksgiving from years gone by with Tiff & pecan pie, Our Mom-Mom Ann , lil sister Danielle, Daddy Stan, & of course Dingdaddy. May your day be blessed with sweet memories & new everyday miracles of love," she captioned the sweet post.
Many people chose to complement the youngest Trump daughter for her attractive look. "Total Goddess," one social media user gushed. "I think @tiffanytrump is the most beautiful daughter of The Donald," added another. While a third one wrote: "The hottest Trump in the family."
Marla's post too received compliments from Instagram users who couldn't help notice her age-defying look. "You and your mom look more like sisters rather than mother and daughter! You're both beautiful," wrote one. "Marla Maples please share your youthful beauty secrets. Both beautiful," added another.