She barely shares her life on social media, and yet every once in a while, when Tiffany Trump is seen in public, unfailingly there's a fan frenzy. Most recently, the youngest daughter of US President Donald Trump was seen donning stylish autumn colours at the National Thanksgiving Turkey Presentation.
Joining the 24-year-old was her half-sister Ivanka Trump, brother Barron and other members of the First family.
Needless to say, decked in a bombshell red mini coat dress, Tiffany, effortlessly stole the limelight at the event.
It was a family affair for the Georgetown Law student as she joined her father and stepmother Melania Trump at their first official turkey pardoning ceremony.
The fashion-forward person that she has turned out to be, Tiffany cut a stunning figure during the annual White House gala.
Braving the chill, Tiffany paired her tweed outfit with black heels and a pink clutch while letting her blonde locks loose.
Decked in a darker shade of red, elder sister Ivanka was also spotted in the Rose Garden on Tuesday afternoon, where the annual turkey pardoning event took place. She was accompanied by her husband and White House senior adviser Jared Kushner and their children, Arabella and Joseph.
Ivanka, unlike her sister, complemented her $2,995 (£2,261) double-breasted Dolce & Gabbana jacket with bright floral prints and black stocking. The 36-year-old was adorably colour-coordinated with her six-year-old daughter Arabella, who too turned up for the ceremony in red outerwear.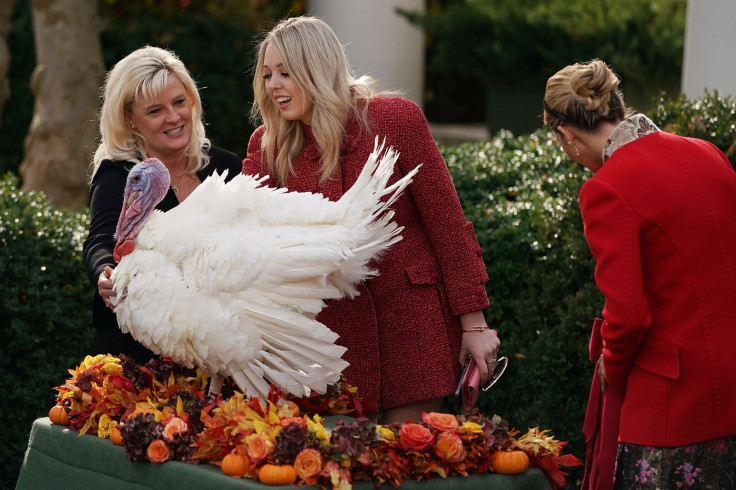 Clearly, the Trumps enjoyed their time, looking festive in matching outfits. Tiffany, especially, was all smiles for the cameras as she caught up with her half-sister and niece during the annual event.