Just a few days ago, Harry Potter spin-off Fantastic Beasts and Where to Find Them was up for a Bafta in the visual effects category and while Disney's The Jungle Book beat it to the prize, there's no denying the quality of the film's dazzling visuals. Now, Rodeo Visual Effects Company, the team behind said visuals, has released a VFX breakdown video unveiling the process of making them.
Given the premise, anyone would expect to see computer-generated magical creatures in the movie but what's more impressive is how much work went into backdrops: scenario, buildings etc. Around the 0:40 mark of the video, fans can see how Rodeo created the grand and decorated interior of the Magical Congress of the United States of America (MACUSA) which is a particular highlight. Another one is from 1:53, when Eddie Redmayne's Newt Scamander reassembles Jacob Kowalski's flat after it's destroyed by his escaped demiguise, niffler and occamy.

"It was a pleasure to work with Arnaud and the talented team at Rodeo FX on Fantastic Beasts and Where to Find Them," Christian Manz, production VFX supervisor previously told Comic Book. "Their contribution to the Newt's Case sequence was truly beautiful and the extensions to MACUSA seamless. I look forward to working with everybody again. Well done!"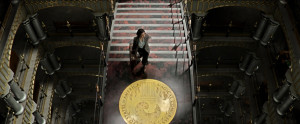 Which he of course will do, seeing as Warner Bros Pictures' has already announced that four sequels to the original will be released over the course of the next two decades. In the meantime, however, fans of the Wizarding World will just have to get their magic fix by re-watching the first instalment. Fortunately, its currently gearing up for home entertainment release, slated to come out on DVD, Blu-ray and VOD on 27 March in the UK. It will reportedly reach the US the following day.
Set in the 1920s, Fantastic Beasts And Where To Find Them follows Newt as he travels all around the world in an attempt to document unknown magical creatures. However, the wizarding magizoologist soon finds himself having to rescue a number of his animal-like discoveries before they are hunted down by No-Maj's (the American term for muggles).
For more entertainment news follow A-List on Twitter @Alistinsider