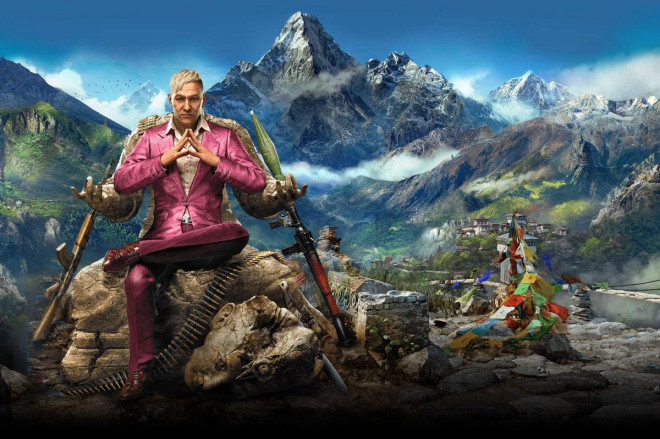 Far Cry 4 will see players battle a viscous dictator according to a leaked pre-order page on Ubisoft's web store.
Since taken down, the alleged leak detailed the plot of Ubisoft's sequel, which was announced last week.
The synopsis (via Only SP) reads:
"Hidden in the majestic Himalayas lies Kyrat, a country steeped in tradition and violence. You are Ajay Ghale. Traveling to Kyrat to fulfil your mother's dying wish, you find yourself caught up in a civil war to overthrow the oppressive regime of dictator Pagan Min.

Explore and navigate this vast open world, where danger and unpredictability lurk around every corner. Here, every decision counts, and every second is a story. Welcome to Kyrat."
It's not yet clear whether the dictator Pagan Min is the pink-suited character seen on the game's box art or whether that character plays a similar, secondary role to Far Cry 3 cover star Vaas.
Far Cry 3 was a big success for Ubisoft when it was released in 2012 selling nine million units to date. Ubisoft are expecting bigger and better things for the fourth in the series.
Far Cry 4 is set for released on 21 November on PlayStation 4, Xbox One, Xbox 360, PS3 and PC.