Far-right Britain First party has hit back at claims made by the mainstream media that it was exploiting Lydna Bellingham's death by sharing pictures of the star on social media.
The Sun and The Daily Mail accused the extremist group of "deceiving people" by encouraging people to share and like pictures of the much-loved star on Facebook to increase visitors to its own website.
But the group, which includes former members of the BNP, has branded the media as "liars" calling their insults as a "shameful and disgusting move". They dismissed claims that any deception was employed by sharing the pictures of Bellingham, saying the party was "simply paying respects to a British actress".
According to The Daily Mail, thousands of Facebook users 'liked' the post, featuring a picture of Lynda with All Creatures Great and Small co-star Christopher Timothy, unaware the photo was being spread by Britain First.
In a furious statement on its Facebook page, the party wrote: "The post in question, which The Daily Mail has reproduced, clearly shows a Britain First logo and has two links to Britain First, rubbishing the claim that any "deception" was employed!
"All the post said was "RIP actress Lynda Bellingham" – that was it.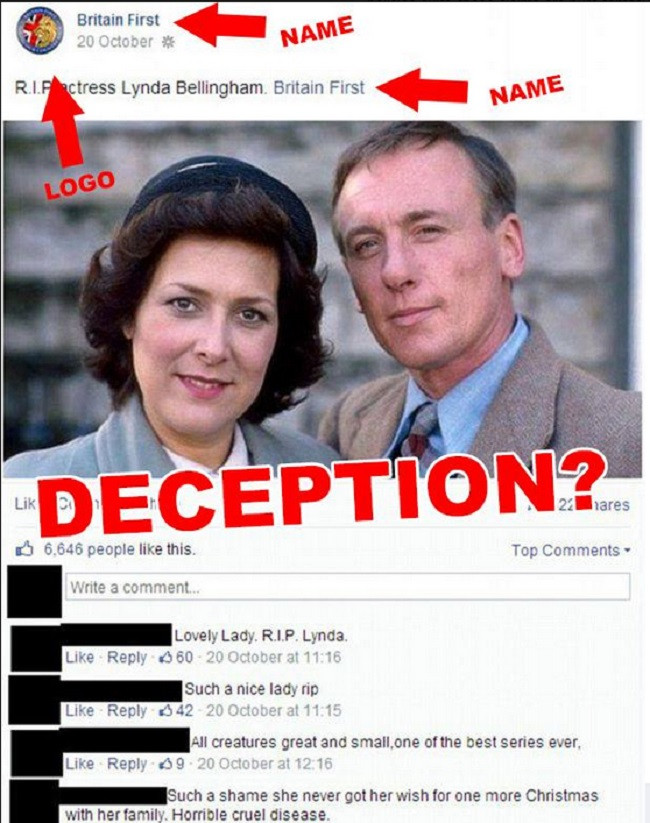 "The media have accused Britain First of reaping a harvest of a 'few hundred' extra Facebook page views, despite our page receiving over 40 million hits every week!
"The hits on our website and Facebook page are now going through the roof because of these false media smear attacks!"
The party continued it was used to being smeared by the "lying media", but this was "a new low".
It also hit back at claims they want to deport all non-whites and wipe out Muslims.
"No such policies exist, these claims are pure fantasy on the part of the newspapers in question."
Britain First added it "was now considering lodging complaints with the press regulatory bodies regarding these smear articles".
However, the party did make the headlines earlier this year when members "invaded" mosques and threatened imams.
One incident in May included party members entering the East London Mosque in Whitechapel and handing out Christian leaflets and bibles while asking to speak to the imam.
According to reports, the party even bragged how they "invaded" the mosque on their official Facebook group page.
The Met Police later confirmed witnessing the group entering the mosque and said officers later seized the leaflets by Britain First.
In another incident in July, activists were captured on video confronting an elderly imam at a mosque in Crayford over the separate "brother" and "sister" signs – threatening him by saying "when you respect women, we'll respect your mosques".