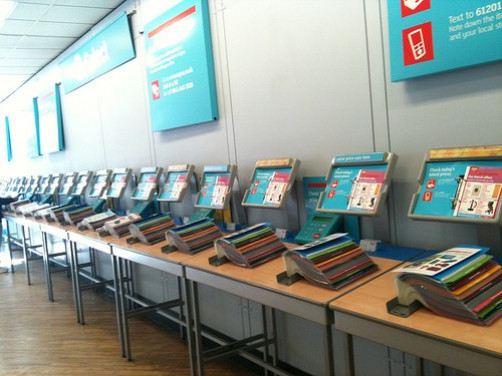 As millions of consumers pound the high street in search of Christmas presents, many will find themselves flicking through the pages of Argos's iconic laminated catalogue.
But it looks like that experience, first introduced in 1973, could soon be a thing of the past after the high street favourite moves into the digital age.
Argos has announced plans to replace its "laminated book of dreams", little blue pens and order forms with iPads.
The company says that its new "fast track" service will allow customers to browse, check product reviews and order via in-store iPads at six "digital concept" stores.
It also pledges to serve customers who have pre-ordered online or on mobile devices, within 60 seconds of their arrival.
Argos opened the first of its concept stores at Old Street in London, with three further sites planned across the capital in Marble Arch, Old Kent Road and Chancery Lane, and two stores in Colchester and Dunfermline.
The company owned by Home Retail Group Plc is investing £300 million to reinvent itself from a catalogue-led to a digitally-led business.
John Walden, managing director of Argos, said: "Stores continue to be critically important as a national network for product collection, and a local presence for local colleagues to provide customer service."
"We believe our stores are a strategic advantage," he added.
Almost 50% of Argos customers still pay and collect in stores, although a growing number - around a third - shop online to click and collect.
The move has provoked debate online.
"Did anyone else spend hours reading the Argos catalogue as a kid whilst writing a Christmas present list? :-(" One twitter user said
Another consumer wrote: "I hope they do remember this pledge to keep paper catalogues especially for those who arent able to access electronic devises."
A third added: "I think it is a great idea to have them instore, as usually when you go instore you know what you're after so searching on an ipad will be much easier."