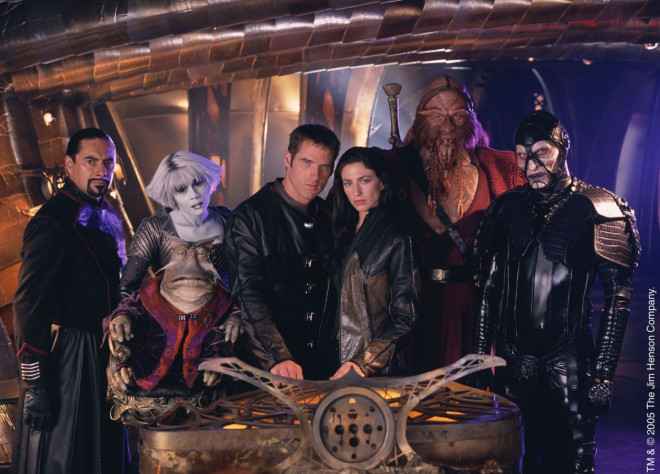 It's still very early days, but the creator of much loved Sci-Fi TV series Farscape has announced that a feature film adaptation is in the works.
Speaking to fans at the Showrunner panel at WonderCon Anaheim in California over the Easter weekend, show creator Rockne S. O'Bannon confirmed that the project is definitely underway.
"We are, in fact, in the script stage of a 'Farscape' feature," O'Bannon announced to the packed audience, according to entertainment site HitFix.
However O'Bannon cautioned fans: "[We're] still in early, early stages."
Farscape was an Australian and American sci-fi TV series that ran from 1999 to 2003, about a diverse cast of characters from different planets who live on Moya, a living spaceship that escaped from the militaristic Peacekeepers, who were using it as a prison transport.
The show follows the crew of Moya, including John Crichton, an American astronaut from Earth, as they travel through the Uncharted Territories in space, each hoping to get home to where they came from.
The Jim Henson Company created all the prosthetics and alien make-up for the show, as well two animatronic puppets Rygel and Pilot who served as regular characters.
Farscape was contracted for five seasons, but was abruptly cancelled just after production ended on the fourth season.
Eventually co-producer Brian Henson secured the rights to the show and directed a three-hour mini-series to wrap up the storylines from the season 4 cliff-hanger, called Farscape: The Peacekeeper Wars (you can watch it on YouTube here). This was broadcast in October 2004 on the Sci-Fi Channel.
O'Bannon told WonderCon attendees that Henson was instrumental in bringing the Farscape movie project to life.
"He was like a dog with a bone," said O'Bannon. "He would not give up on it."
The screenplay is being written by Sydney-based writer Justin Monjo, who already leaked a few details from the Farscape movie script back in February to Australian movie magazine IF.
In the Farscape mini-series, Moya is caught between a war between the Peacekeepers and the Scarrans. Astronaut John Crichton and peacekeeper Aeryn Sun finally marry and they have a baby boy. Their son, D'Argo Sun-Crichton is born with special powers and becomes a target for alien villains, so the child is hidden on Earth.
The new Farscape movie will follow the journey of D'Argo at the age of 19 after his whereabouts are discovered and he is reunited with his parents on Moya.