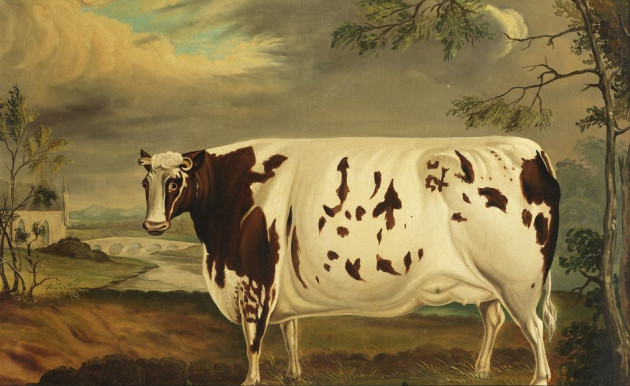 A painting of the fattest cow in British history is to be sold at auction by Bonhams.
The Craven Heifer has held the record as the heaviest cow in Britain for more than 200 years and her portrait shows her hefty size.
The painting is by an unknown artist and was commissioned in 1811. It has been owned by a private collector for the last 25 years.
Craven Heifer became a celebrity during her short life. Her owner, Rev William Carr fed her relentlessly during her five-year lifespan and at her peak, she weighed 312st (1,980kg) and was 11ft 4 long (3.4 metres).
She was from the Duke of Devonshire's estates in Craven, Yorkshire. The portrait was expected to sell for up to £5,000 at the Knightsbridge auction.
"It's had lots of interest. It's an eye-catching thing. It has a good chance of exceeding its estimate," said a Bonhams spokesman.
The cow was bought by John Watkinson of Halton East, north Yorkshire for £200 - a huge sum of money at the time and equivalent to over £13,000 now.
Watkinson took the heifer to London, a 73-day trip, after which she went on exhibition at the Cock Inn in Haymarket.
She became a national phenomenon and pubs and inns across the country are named after her.
The Craven Heifer is part of the Gentleman's Library Sale, a collection of curios and rare objects, including the skeleton of a pygmy hippo.
The mounted skeleton of the hippo was estimated to sell for as much as £15,000. It is one of only two surviving species of hippopotamus and was unknown to Western science until the 19th century.
There are only 2,000-3,000 pygmy hippos left because of loss of habitat.