Production for Fear The Walking Dead season 2, which will have 15 episodes, have begun in the Baja peninsula in Mexico at Baja Studios. The upcoming season will take a small time-jump and return with Madison, Travis and their extended family taking temporary shelter in Victor Strand's gated estate.
As the apocalyptic flu takes over Los Angeles and the undeads start swarming across the LA streets, the lead characters will decide to abandon the ground and board Strand's yacht Abigail that is moored offshore.
"We are thrilled to be starting production and even more thrilled to be shooting in Mexico. Baja Studios has been home to some of the greatest ocean-set films in recent years and provides all the creative resources we need to begin this new chapter in the 'Fear' saga. We couldn't be happier," executive producer of the popular AMC horror thriller, Dave Erickson, said in a press statement.
Season 1 of the AMC zombie thriller ended on a tragic note as Travis (Cliff Curtis) is forced to kill his former wife Liza in order to save her from turning into a zombie. The finale also revealed that the lead cast will move towards the sea with the help of Strand (Colman Domingo), a mysterious wealthy man.
By the end of season 1, fans were expecting Strand to emerge as a major character and AMC's recent announcement has proved them right as Colman Domingo has been promoted to series regular.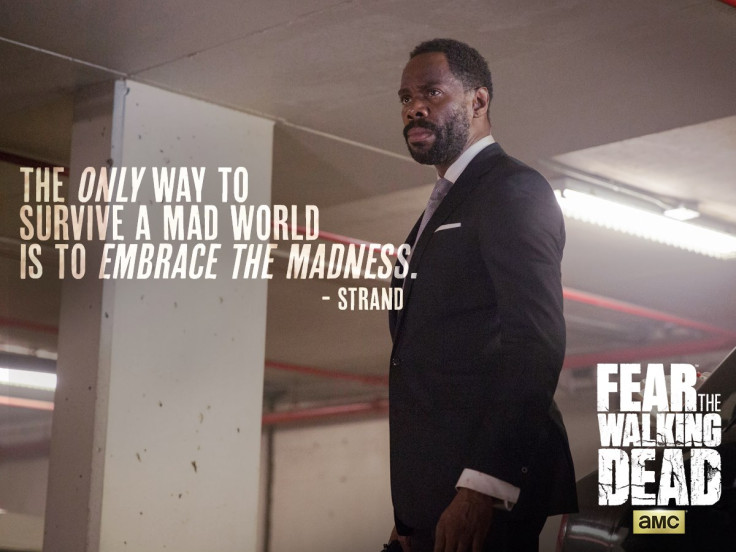 Fans of the show were eagerly waiting to see a strong and rational character who could deal with unexpected situations when the world is crumbling around them. Earlier, everyone had high hopes of the high school teacher Travis Manawa, but soon he was criticised as a weakling who hesitated to kill zombies but still had faith that humanity would be restored.
Domingo's character is expected to play a key role in the upcoming season as he will lead Madison (Kim Dickens), Travis, Daniel and their families into the sea in the belief that zombies cannot swim. It remains to be seen how they will stay unaffected by the sinister flu and how they will meet another set of new characters who are set to enter the show from Flight 462.
Erickson, had earlier told Hollywood Reporter that FTWD season 2 will take place on both land and sea. He had also teased that many people will try to escape the infection by boarding boats. "We end on one boat and the ocean beyond, but what we'll come to realize and this will be part of what the military is doing," he told the website.
"You'll see that land is no longer safe. At least not in Southern California. Some people have not been quarantined or driven north or south. But there's thousands of boats through L.A. County. So a lot of people will stock up the boats and try to get to the water and avoid land as much as humanly possible. You'll see a lot of people trying to survive. If you look at Strand's yacht, it's a pretty handsome vessel. It's something that you can survive on for a good period of time, and that's something others might covet. So when you get to the question of what's worse, walker or human, we'll continue that theme. There will be quite a bit of action on the seas — and we'll split it between land and water. But it's going to be an interesting dynamic."