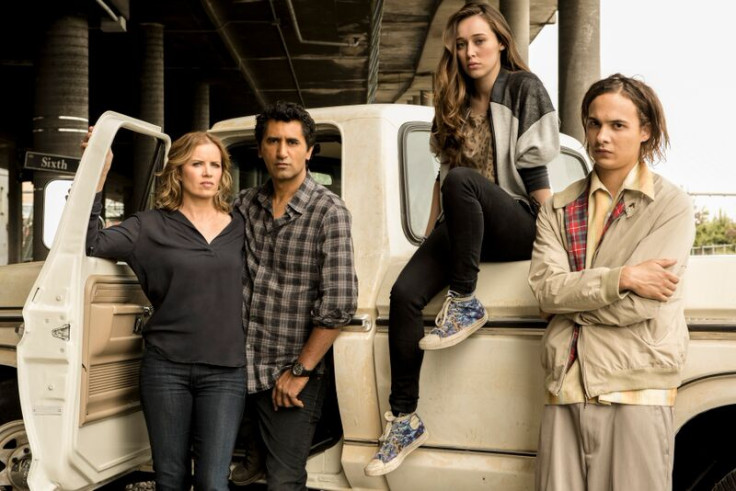 Fear The Walking Dead finally delivered what it promised before the finale - a shocking end, swarming zombies and a heart-breaking death. Show producers are weighing in on a more powerful season 2 that will reveal the backstories of the lead characters and how they will evolve amid the threat of death and zombies.
Show producer Dave Alpert teases that the upcoming season of the AMC apocalypse series will explore Madison's past and how that will help her become a strong character. "In season 2 I am really looking forward to seeing what happens to Madison. How she is going to evolve. I want to know more about what her backstory is. I think we will get some of those answers," he said in the preview video. Alpert also hints at major deaths in the next season of Fear TWD by saying "Being in the world of the walking dead, nobody is safe."
Kim Dickens, who plays the character of the teacher with two grownup children, reveals that Maddie's secret past will make her a strong person in the zombie infected world. "The dark past that she has, that she suppressed, that she keeps as a secret, is probably going to be the thing that serves her," Dickens said in the FTWD season two preview.
In the finale of the popular AMC show, Travis' ex-wife Liza gets bitten by a walker while they try to escape from the hospital. But instead of waiting for the virus to devour her body and mind and turn her into a flesh eater, she decides to die and urges Maddie to shoot her.
Travis, who was shying away from fighting back against the odds all through the season, finally wields the gun to end Liza's misery. Meanwhile, rich businessman Strand (Colman Domingo), who helped save Nick in the National Guard prison, guides the survivors to the Pacific coast where his boat is awaiting them. It will be interesting to see if the walkers can swim and make their way to the cruise ship where the lead characters will take shelter in Fear The Walking Dead season 2.