Fear The Walking Dead season 1 ended with the tragic death of Liza, Travis Manawa's former wife. The finale episode also revealed that the lead character will flee Los Angeles by moving towards the ship with the help of the rich businessman Strand (Colman Domingo).
The show producers have already said that some characters of the special web series Flight 462 will unite with the FTWD leads. But the changing scenario in the flight is making sense and giving an idea of how the characters will meet.
Here is a possibility. The Phoenix-bound flight was forced to return to Los Angeles as the pilot could not find a visible landing strip. In the meantime, Marcus, the sick passenger on board falls unconscious and the flight crew starts doing CPR on him. The girl, who is suspicious of Marcus' illness, asks everyone to lock him inside the bathroom but a US air marshal orders her back to her seat.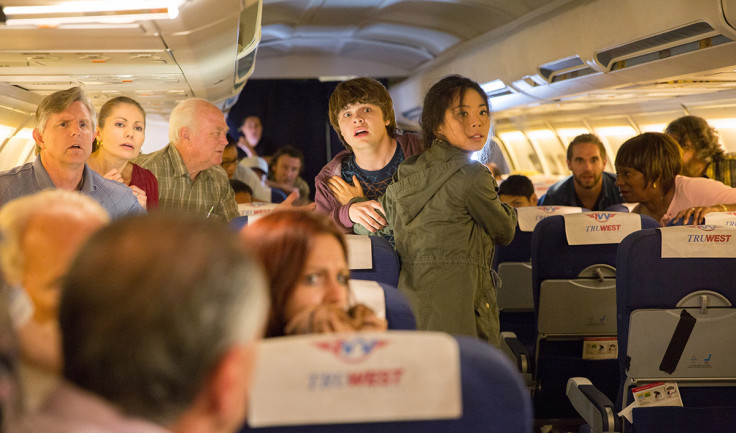 The patient finally opens his eyes, which have now turned blue, suggesting that he has turned into a zombie. The upcoming webisodes of the popular series will reveal how the newly turned zombie will infect the passengers and thereby bring chaos inside the ill-fated flight.
There will not be any surprise if the flight crashes somewhere near the cruise ship that Travis, Madison and others have taken refuge in. The producers and actors are tight-lipped about how the season 2 plot will proceed, but the situation on Flight 462 suggests that fans can have a nail-biting season 2 if some of the zombies from the flight bites one or two in the cruise ship.
This will also turn Strand's worst nightmare true as he was the one who thought zombies cannot swim and they will be in a safe paradise. But what about some flying walkers crash-landing straight on his precious abode?
The upcoming season will also show a tough Madison, who is ready to kill the undeads to save her family. "I feel amazing, I just love killing zombies," Kim Dickens said during the Festival de Series in Madrid. (Via Melty)
In an exclusive interview with IBTimes UK, executive producer Gale Anne Hurd revealed that there might be a cure for the zombie apocalypse.
"Viewers have always wondered whether there is any way of avoiding the zombie apocalypse. In season 2, they may very well find out," she told us.
Fear The Walking Dead season 2 will return with 16 episodes in 2016.