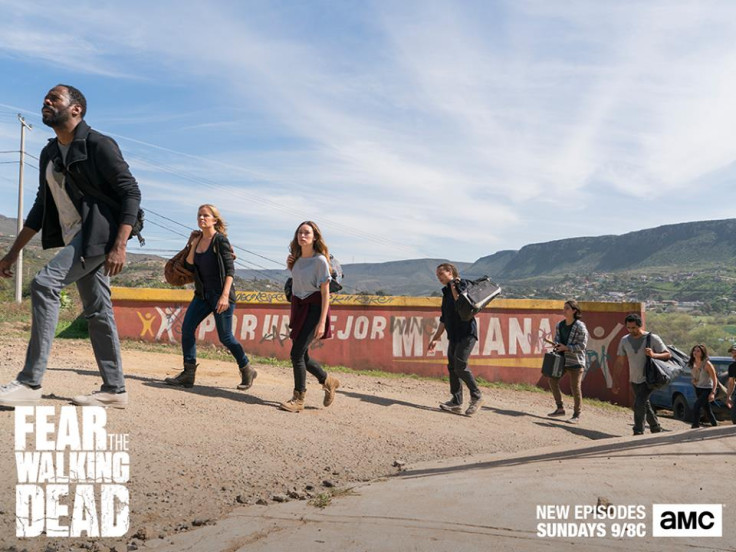 Fear the Walking Dead season 2 is heading towards its mid season finale which will untangle another set of mysteries ,as Madison Clark, Travis Manawa, Daniel Salazar and their children, Nick, Alicia, Chris and Ofelia will abandon Victor Strand's yacht Abigail and move towards a mysterious destination. The synopsis of the penultimate episode titled Sicut Cervus reads: "Conflict arises as the Abigail approaches its destination; Chris makes a staggering decision; Nick meets a new maternal figure."
US viewers can watch the episode via live stream here. It can also be watched on Android and iOS devices using the AMC app.
Meanwhile, a leaked episode description reveals some crucial information about the pre-finale. The Spoiling Dead Fan, claims that the group will meet with life-threatening dangers. Apart from the outer threats, Travis will have to deal with Chris and his creepy actions as it appears the apocalypse slowly started devouring him psychologically.
According to the leak, Chris will start killing uninfected humans. Tempers fly between Travis and Madison over Chris' creepiness. Madison spends the night in her daughter's room because Chris is clearly losing it.
A promo released by AMC, does mention about Chris' fragile situation when Travis confronts him of killing Reed in the previous episode. "They're saying that a guy you shot wasn't sick," the former high school teacher asks his son.
Furthermore, the group heads to Mexico where they will meet with some unwanted guests and Strand will ask them to hide. However, it appears they will have to face a fierce battle before reaching a safe harbor.
Fear TWD season 2 will return at 9pm on Sunday 15 May on AMC. The episode will simulcast in the UK on 16 May on BT at 2am.