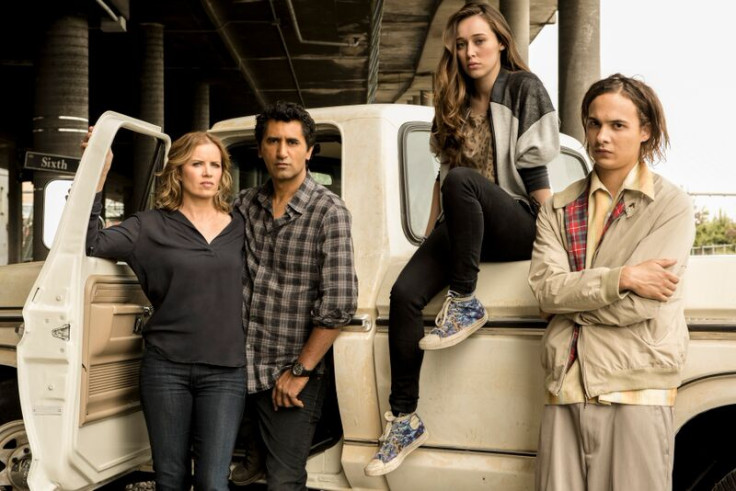 Fans of Fear The Walking Dead can soon expect a premiere date as the production for season two has begun in the Baja peninsula in Mexico at Baja Studios. But there is more to feel excited about as series star Kim Dickens, who plays Madison Clark in the AMC zombie drama, has said she is "game" for a crossover with The Walking Dead.
​"I think we were just sort of led to believe early on that there was no crossover — it was a little bit different time period, a different story, different location, different characters," she told ​Digital Spy. "But I don't think it's anything that's out of the question. I'm sure the writers would do it in a fantastic way, but I have no idea if they're going to do it. I would be game for it!​" Dickens added.
Earlier, executive producer Gale Anne Hurd had said a TWD and FTWD crossover is geographically not possible. "I mean our group of survivors in The Walking Dead haven't even made it as far as Washington DC yet, in six seasons, and they are not that far away. So for the Fear characters to make it across the country? For what? I mean why would you go there? I mean how would we motivate our characters to head to DC, or, you know, to head to the Southeast," she told Deadline.
The second season of FTWD will focus on the families of Travis Manawa, Madison and Daniel Salazar. The survivors fled Los Angeles after it was swarmed by the undeads and the army in the area literally made the apocalypse turn worse with their haphazard way of handling the terror of the mysterious flu virus.
The upcoming season will also focus on the relationship between Travis and Madison as both have shown different attitudes while dealing with the calamity. While Maddie is eager to kill a few zombies in order to save her children, the high school teacher is still not ready to leave his good man attire.
Cliff Curtis who plays Travis in the popular thriller hints that FTWD season 2 will be more about the relationship between Maddie and Travis and how they will struggle with their teen children and Strand.
"I'm more focused on the relationship between mine and Kim's character, seeing how they come together and reconstitute their relationship. I want to see how they build a family out of that, and keep their family and take care of their family. But Nick is in the Strand camp, and Travis doesn't really align with that. So I think there continues to be tension between him and Nick," he told MTV.