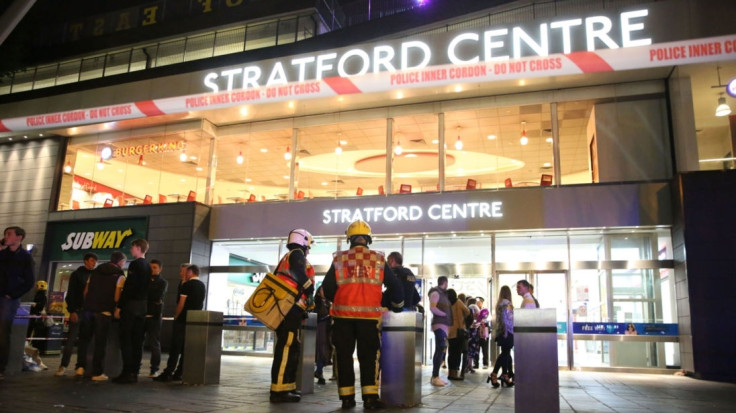 A 15-year-old boy has been released on bail following an acid attack that left six injured - which is believed to be the latest in a spate of tit-for-tat violence between east London gangs.
Met Police said the injuries followed an "altercation between two groups of males" inside Stratford Shopping Centre on Saturday night (23 September).
The force added: "During this incident a noxious substance was thrown. When the liquid was thrown, both groups ran from the scene."
Ambulance crews treated six males at the scene for their injuries, and three of them were taken to hospital.
Police said the injuries were "not life threatening or life changing".
The Met said the boy, held on suspicion of causing grievous bodily harm, had been bailed until late October.
The attack is understood to be in revenge for schoolboy Corey Junior Davis, 14, linked to the Woodgrange gang, who was shot from behind at close range next to a playground in Forest Gate earlier in the month, reported the Mirror.
The teenager died in hospital the day after being attacked in broad daylight near his home.
Locals believe the shooting was itself a revenge attack arranged by the Beckton E6 crew following the stabbing of an 18-year-old during a mass brawl earlier this month.
Now there are fears the acid attack was payback for the Corey Davis' death, with one shop worker at the Stratford Centre linking the two attacks and gangs.
A worker called Darren, who spent most of the night scrubbing acid from the windows at the shopping centre, said: "Two gangs had an argument and there was a fight which extended out into the middle of the centre.
"Some acid had already been sprayed by McDonalds and some people were running away towards Burger King. They were being chased. More acid was sprayed in the centre too, it was everywhere.
"There were people on the floor by the bus station surrounded by screens while ambulance and fire people were putting water on their face."
Describing the chaos Darren said victims were screaming and shouting: "'my face, my face.'"
He added: "Over the last few months there has been a lot of friction between the gangs in east London. These kids were aged about 14, there were others no older than 18."
But a Scotland Yard spokesman added: "Whether the attack is linked to the murder of Corey Junior Davis is not something that has been flagged up to us by the officers.
"It is probably too early for us to confirm anything at this point and inquiries into motive are ongoing."