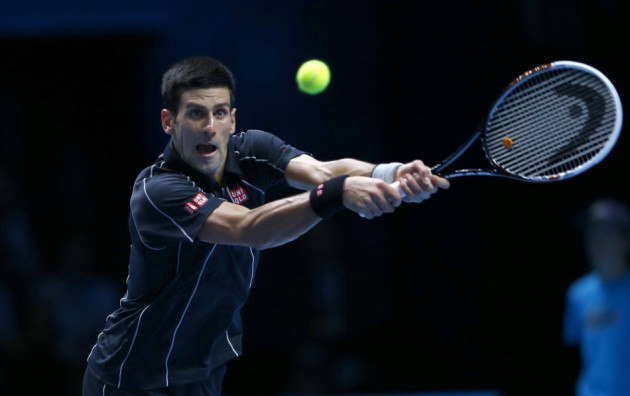 Novak Djokovic kept alive his hopes of finishing 2013 as world No.1 after beginning his ATP World Tour Finals title defence with an error-strewn three set win over Roger Federer at London's O2 Arena.
The 6-4 6-7 6-2 victory means Rafael Nadal must wait until Wednesday's meeting with Stanislas Wawrinka to confirm ending the year top of the rankings.
In a repeat of last year's final, Djokovic staged a dramatic turnaround in the opening set, as the the Serbian benefitted from a overturned line call from the umpire following a Federer winner to survive a break and then secured one of his own to take the first set.
The 17-time grand slam winner Federer saved two break points at the start of the second set and his resilience appeared to have paid dividends when he broke the world No.2 from 40-0 down, and despite being broken back, surged ahead again to set up the opportunity to serve for the second set.
But Djokovic produced a vintage display to level at 5-5 with the fourth break of serve in the space of six games but after Federer salvaged a tie-break the Swiss stormed through 7-2 to set up a decider.
However, the Australian Open champion secured a break in the opening game and then again in the fifth, an advantage to which Federer was unable to respond, to get his campaign off to a winning start.
"It was probably the toughest start I could get for this tournament," said Djokovic. "It was always going to be a tough match for both of us.
"Of course, Roger was fighting throughout. The second set was very close. I was not satisfied with my serve. I basically played with no serve. No first serves the whole second set. But when I needed to in the third, I served well. I'm just happy that I overcome this challenge.
"It was intense. It was emotional, up and down. But I lost my calmness. I have to say, in the middle of the second set. At 2-2, I had 40 love. I lost that game for no reason. He started playing better. He started making less mistakes."
Federer added: "I think Novak also struggled for a long period of time tonight. So did I. I'm not even sure if we played our best in the third [set]. It's just one of those matches you try to take advantage when the other guy's not 100 per cent."
"I thought I had a chance today. So that's the part where I'm unhappy. I wasn't able to take advantage of it. Because I was actually feeling much better than I was in Paris overall, physically.
"I think at this point it's very mental, just making sure I don't get too negative on myself because of the loss today. I mean, it was against Novak after all. It's not against some journeyman."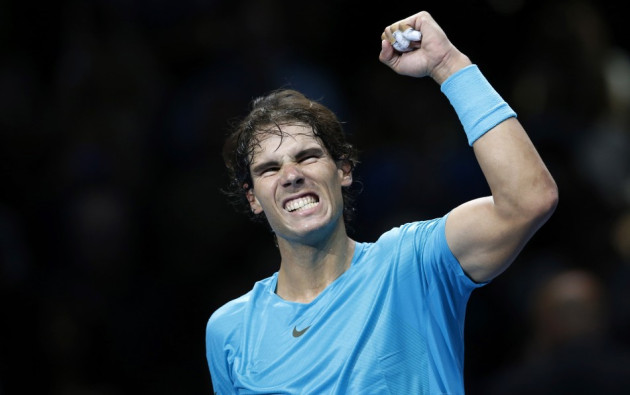 Despite Djokovic's win, Nadal is within a win of becoming the first player to return to world No.1 at the end of a calendar year after swatting away fellow-Spaniard David Ferrer 6-3 6-2 in the afternoon session.
Ferrer had defeated Nadal in the Paris Masters semi-final last week - his first victory over the French and US Open champion for two years - but was up against it from the off as Nadal stormed into a 4-2 lead before taking the opening set in 34 minutes.
Nadal was threatening to continue the onslaught as he took a 5-0 lead in the second set and despite a late Ferrer break the No.1 seed clinched the match by converting a sixth break-point to confirm victory.
The 26 year old only requires a win over Wawrinka to end 2013 as the world No.1 while Ferrer, who was feeling the affects of his run to the final in Paris, faces an uphill task to reach the last four after an emphatic defeat.
"He arrived here a little bit more tired after playing the final there," Nadal admitted. "He had not a lot of time to adapt. Court is a little bit slower.
"I played with a little bit more calm than the other day. And in my opinion he didn't have the chance to hit the winner as easy as he did three days ago.
"I didn't have a very physically demanding match today so I hope I will be 100% for tomorrow physically. I would prefer to have one more day off but that's what it is."
Ferrer will take on the fifth seed Tomas Berdych on Wednesday and added: "I didn't play my game in all of the match, not only in the beginning of the set.
"I made a lot of mistakes and I was not comfortable with the court. To beat Rafa I needed to focus, and be stronger mentally. Today I was not good in myself, in my mentality or in my shots."