Feeding Britain: How do food banks work?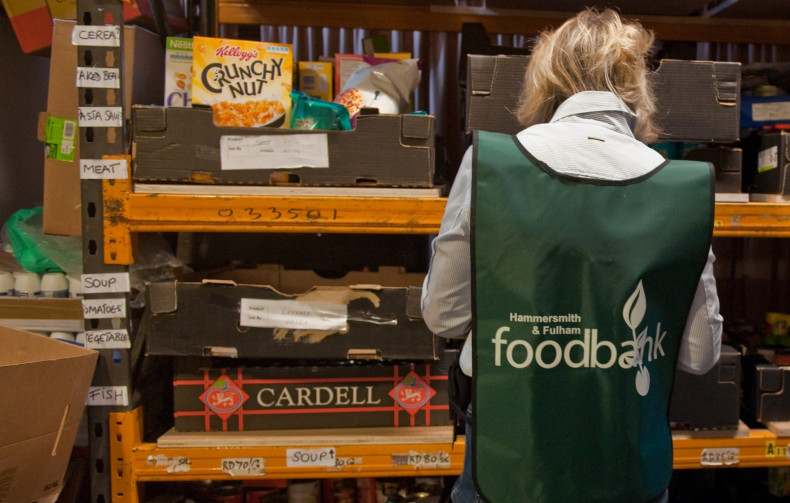 Around 13 million people live below the poverty line in the UK. In the decade between 2003 and 2013, Britain experienced the highest rates of food, fuel and housing inflation, but wages have not kept up – growing by just 28% in 10 years. Essentially, the ever-rising cost of living has hit Britain's poorest households hard.
Every day, people in the UK go hungry for reasons ranging from unexpectedly large bills on a low income, to static incomes and redundancy. As a result, the Trussell Trust, the biggest provider of food banks in Britain, has seen the number of people using its service soar from 40,898 in 2009/10 to 913,138 in 2013/14.
The report of the All-party Parliamentary Inquiry into Hunger in the United Kingdom, Feeding Britain, has recommended that to tackle food poverty and curb reliance on food banks, benefits should be delivered faster – within five working days.
IBTimes UK looks at how food banks work and what essential service they deliver to Britain's poorest homes.
How do food banks work?
There are over 420 food banks currently run by the Trussell Trust, which in the last year fed 330,205 children.
Volunteers and staff collect, sort and distribute non-perishable food donations from schools, businesses, churches and individuals. Food is also collected at supermarkets, where volunteers give shoppers a "food bank shopping list" and ask them to buy an extra item or two for local people in crisis.
Each client is referred to the food bank by a professional, such as a doctor or social worker.
"Over 90% of the food we have in our network is donated by the public, and everyone who comes to a Trussell Trust food bank is referred by frontline professionals like social workers, schools liaison officers, CAB and health visitors," a spokesperson for the Trussell Trust, Emma Thorogood, told IBTimes UK. "All in all, over 27,000 professionals refer to food banks in the UK."
Vouchers are then exchanged for enough food for three days at a distribution centre.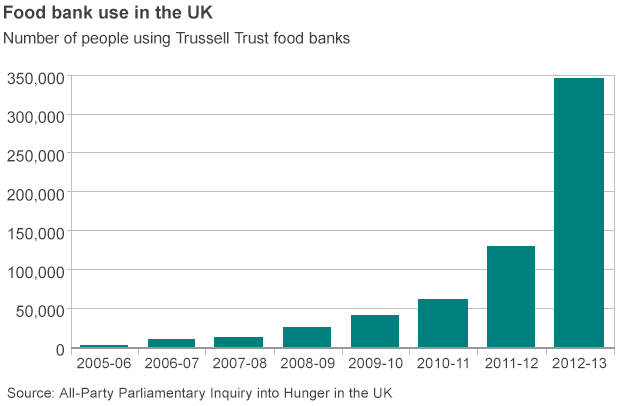 Do food banks encourage dependency?
Contrary to the claims that food banks increase dependence on services and ignore the underlying reasons for an individual's financial crisis, the Trussell Trust works in partnership with other charities and agencies.
The trusts' volunteers work with debt advisors, drug and alcohol services, mental health services and housing charities, to break those in need out of poverty and discourage dependency on food banks.
Volunteers for the trust can signpost clients to these services and each client can be referred three times before the food bank asks further questions.
Is the food nutritionally beneficial?
Food banks cannot cope with storing perishable foods, so discarded fresh fruits and vegetables are not suitable produce for distribution. Food parcels given out by the Trussell Trust have been designed by dieticians to provide recipients with nutritionally-balanced food.
UHT or powdered milk, sugar, fruit juice, soup, rice, pasta, pasta sauces, tinned sponge puddings and tinned tomatoes can be included in food parcels, as well as tea bags, instant coffee, tinned fruit, jam biscuits, instant mashed potato or tinned meat or fish. The food parcels are designed to last three days.
Although food is the main focus of the Trussell Trust, the organisation occasionally receives donations such as baby food, toiletries, hygiene products and nappies, which are given to clients who really need them.
Are food banks demand-led?
The number of food banks run by the Trussell Trust has shot up in the last decade, which the organisation blamed on the increasing cost of living and benefit reforms in this week's Feeding Britain report.
Yet some have claimed food banks are "supply-led" – including former investment banker and peer David Freud in 2013.
In July 2013, Freud was criticised for attributing the dramatic increase of food banks in the UK to people taking goods that were available for free, rather than anything to do with his welfare reforms.
"If you put more food banks in, that is the supply. Clearly, food from the food banks is a free good and by definition there's almost infinite demand," he said.
However, a Defra-commissioned report last February found there was "no systematic evidence on the impact of increased supply and hypotheses of potential effects are not based on robust evidence."